The story so far...
This
must be embarrassing for some:
Nearly half of Canadians feel Canada's diplomatic influence on the world stage has waned over the past decade of Conservative rule, says a survey released hours ahead of a leaders' debate on foreign affairs issues.




Yet on most high-profile international issues, incumbent Prime Minister Stephen Harper is viewed as the best suited to represent Canada.




"It's very contradictory," says Shachi Kurl, spokeswoman for the Angus Reid Institute that conducted the survey.




For every survey respondent that feel Canada's reputation is better today than 10 years ago, two feel it is worse — 21 per cent to 41 per cent, respectively. Thirty per cent say Canada's reputation is the same and seven per cent are not sure.




"I think it does speak to the polarization and division of politics in this country," Kurl says.




NDP Leader Tom Mulcair is the choice of the largest proportion of survey respondents when it comes to representing Canada on issues of human rights and climate change.
(Sidebar: why? Was Thomas Mulcair ever a hostage negotiator or something?)
But asked who would best represent Canada on a world stage, in delivering a speech to the United Nations, on trade and economic policy and on terrorism and security, Harper comes out ahead.
Canada is emerging as a major world power and with that comes the obvious prestige with some and notoriety with others (mainly the genocidal or totalitarian types). If the doubters are sure that Harper best represents Canada on the world stage but still feel that its reputation has waned, ask them who they would want to release them from the darkest Iranian prison: Chretien or Harper?
(
Hint
:
the last guy was a total bust
.)
Also
:
Trudeau was already on the defensive heading into the contest due to a video, strategically leaked by the Conservative war room less than 48 hours before debate time. In the clip, he said: "And I'll give you the quote so that you guys can jot it down and put it in an attack ad somewhere that the Liberal party believes that terrorists should get to keep their Canadian citizenship. Because I do. And I'm willing to take on anyone who disagrees with that."

He didn't back away from his policy Monday, rather accusing Harper of divisive politics and insisting that "a Canadian is a Canadian is a Canadian." The Conservative leader fired back that, had the government not taken the anti-terrorist measures it has, including C-24, Canada might already have suffered attacks on the scale of 9/11. Hyperbole? Almost certainly. But he made his point.

In total, CBC has reported, at least five people linked to terrorism have received notice their Canadian citizenship has been revoked. The wrinkle for both opposition parties is that the vast majority of Canadians, including many who don't consider themselves "right-wing," will see nothing untoward in the notion of exiling a dual citizen found by a court to have declared war on Canada. Indeed it makes a certain kind of sense; better exile, one would think, than feeding and housing them in prison at Canadian expense.
More on Trudeau's gaffe-tastic support for the more "restive" persons
here
and how the niqab has become the covered elephant in the room for its political supporters
here
.
Also
: most Canadians oppose eased restricted on convicted murderer Omar Khadr:
On removing the tracking bracelet on Khadr's ankle, 67% of Canadians disagree, 45% strongly. On removing the police software on his computer to allow them to monitor what he's doing, 71% of Canadians disagree, 49% of them strongly. And 60% of Canadians oppose his right to fly on jets ...
So much craziness....
Humiliated that
resource-hungry Putin
is ardent in his efforts to stop ISIS,
Obama attempts to deride him in the UN
:
U.S. President Barack Obama blasted Russian President Vladimir Putin's approach to other countries Monday, suggesting in a speech at the UN General Assembly that the world's nations must uphold international order in Syria and Ukraine or risk global instability.

But at the same time, Obama made an overture to its sometime adversary, saying the U.S. would work with any nation to try to bring an end to fighting in Syria that has dragged on for four and-a-half years.
As in draw a red line
?
Obama will never eliminate ISIS but Putin will do so for a pipeline.
You don't say
:
Moving among the tens of thousands of Syrian war refugees passing through the train stations of Europe are many who are neither Syrian nor refugees, but hoping to blend into the mass migration and find a back door to the West.

There are well-dressed Iranians speaking Farsi who insist they are members of the persecuted Yazidis of Iraq. There are Indians who don't speak Arabic but say they are from Damascus. There are Pakistanis, Albanians, Egyptians, Kosovars, Somalis and Tunisians from countries with plenty of poverty and violence, but no war.

It should come as no surprise that many migrants seem to be pretending they are someone else. The prize, after all, is the possibility of benefits, residency and work in Europe.
This
will never cease being funny because it's true:
No stampede there
.
What? Too soon?
(
Merci
)
And now,
a graph indicating Pope Francis' daily performance
: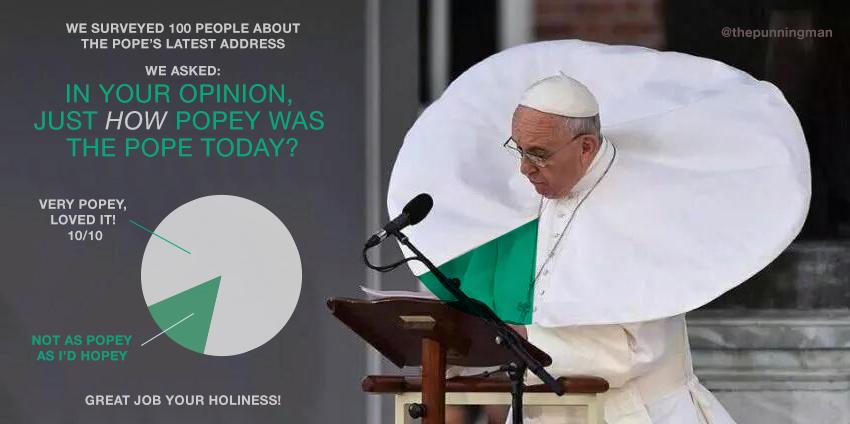 Happy dogs
and
further proof that dogs just love to help
: