The first in February ...
One would think that Justin's handlers would avoid town-hall meetings. Try as they might to stuff these PR stunts with ovine-minded followers, there are always examples of how Justin is truly disliked for being a smug, disgusting bit of scum.
Cases in point:
A disabled veteran, an Indigenous woman angry about racism and people worried about stalled oil pipelines had tough questions for the Prime Minister Justin Trudeau during a town hall meeting in Edmonton Thursday night.

A former soldier who lost a leg in Afghanistan was critical of Ottawa's plan to reform some veteran's programs, including changes to disability pensions.

"I was prepared to be killed in action," said Brock Blaszczyk, a former corporal who lost his left leg to a roadside bomb in Afghanistan. "What I wasn't prepared for, Mr. Prime Minister, is Canada turning its back on me." ...

To some shouts and boos from the crowd, he defended his government's changes to veteran pensions, saying they shift the emphasis from lump payments to long-term services.

"We have significantly invested in services, rehabilitation support, investments in training and support for caregivers and families."

Trudeau said that program spending must be taken into account.

"Why are we still fighting against certain veteran's groups in court? Because they are asking for more than we are able to give right now," Trudeau said.
What a piece of sh--.
Just like those greedy
farmers and waitresses
, men and women who put their lives on the line for Canada and its interests are - Justin's own words - "...
asking for more than we are able to give right now
...".
This from the
jet-setting
coward
who refuses to repay the expenses of his trip to see his "Uncle K"
,
who awarded a convicted terrorist $10.5 million
, and
who wastes money that isn't his
.
There is more than enough money for the unelected Supreme Court to hear and ultimately ignore veterans
.
Strangely enough, there is no money to actually compensate veterans (who, one must be reminded,
campaigned to get Trudeau into office
just so that he could screw them over).
More of Justin's "stellar" leadership:
"We're in a federation and the provinces have differences of opinion, different approaches all the time," Trudeau said in Edmonton Thursday, referring to the open brawl over B.C.'s proposed bitumen ban for the Kinder Morgan Trans Mountain pipeline.



"One of the things that it's important to remember is we have the federal government to look out for the national interest about various disagreements within the provinces."



A bit later he said: "I'm not going to opine on disagreements between the provinces in this case."
(
Sidebar
:
this pipeline
.)
**
In other words, the underperformance of the Canadian large-cap market has increased dramatically and incrementally since the beginning of 2016. And the underperformance of Canadian stocks has become even more severe over the last two to three months. Moreover, the correlation between the Canadian and U.S. markets, which was always quite high, has fallen somewhat since January 2016. The above evidence indicates a fundamental change in the Canadian economy in the last two years. Investors in Canadian equities originally gave the benefit of the doubt to the Trudeau government, but as reality about federal Liberal economic policies started to set in, the Canadian stock market started to severely underperform the U.S. equivalent.
**
One such church program in Grimsby contacted my office to say organizers are submitting a paper application with an additional letter of explanation as to why they can't check the "attestation." This program offers a summer camp experience to more than 300 children. Many of those children have developmental disabilities. The Summer Jobs Grant money is used in part to train camp counsellors how to interact with these children. But this year the program is in jeopardy because the church will most likely be denied federal funding.
**
Before Trudeau took the stage at the University of Manitoba's Athletic Centre for the fifth stop on his coast-to-coast town hall tour, he set aside five minutes to meet Emad Mishko Tamo in a back room at the venue.
(
Sidebar
:
reminders on how Trudeau and the Liberals don't care about the Yazidis
.)
But that's Justin for you
:
Also:
would that be because you are cheating veterans out of what they deserve, Seamus
?
The treatment of Canada's disabled veterans is again sparking heated exchanges in the House of Commons — only now it is opposition Conservatives accusing governing Liberals of having lied to ex-soldiers.




Veterans Affairs Minister Seamus O'Regan faced a grilling in question period Friday morning over some frank comments Prime Minister Justin Trudeau made the night before. ...




Liberals

promised in the 2015 election to re-establish lifelong pensions as "an option" for injured vets. They say they are accomplishing that with changes unveiled in late December that include a monthly, tax-free payment for pain and suffering that maxes out at $1,150 and a new benefit for those with severe disabilities.




Members of the veterans community say, however, that the changes are less generous than what existed before 2006. A veteran involved in the so-called Equitas lawsuit against the government called the Liberal plan

"nothing more than a shell game."
Prime Minister Justin Trudeau was accused Thursday of politically interfering in the case of Vice-Admiral Mark Norman by claiming the naval officer would probably end up in court.

Trudeau's office has refused to explain how and what information the prime minister had to come to the conclusion he voiced last year that Norman – who has not been charged with any crime – would wind up in court.

Chief of the Defence Staff Gen. Jon Vance has also declined a request by Postmedia to provide information about which officials in the prime minister's office he provided briefings to regarding the Norman case.

But Conservative defence critic James Bezan said Trudeau has interfered in the process.

"The Prime Minister himself approved (Norman's) suspension and publicly predicted that his case was going to end up in court without offering any explanation at all," Bezan said Thursday in the House of Commons. "Why is the Prime Minister politically interfering in Vice-Admiral Norman's case and denying him his right to due process."
The motion specifically for so-called Islamophobia fails to convince most people
but that doesn't mean this censorial motion will not go away:
The report arising from the Liberals' anti-Islamophobia motion, M-103, was made public on Thursday, and calls for a national action plan on racism and religious discrimination, better data collection on hate crimes and cultural sensitivity training for law enforcement.

But the report, titled "Taking Action Against Systemic Racism and Religious Discrimination Including Islamophobia," makes almost no recommendations that specifically target Islamophobia, despite months of controversy over the use of the term in the motion tabled by Liberal MP Iqra Khalid in December 2016.
Yes, about that
:
Recommendation 22

Recommends the Government of Canada take a strong leadership role to actively condemn systemic racism and religious discrimination including Islamophobia. …




Recommendation 30

That January 29th be designated as a National Day of Remembrance and Action on Islamophobia, and other forms of religious discrimination.
But chiefly Islamophobia because
backlash or something
:

The number of police-reported hate crimes specifically targeting Muslims went down last year after spiking by over 250 per cent in the four years prior.
Ontario Tories will choose their next leader on March 10th
:
The executive of the Ontario Progressive Conservative Party will announce a new leader on March 10, president Jag Badwal said late Wednesday.
Interesting
:
A Conservative MP is describing the downfall of former Ontario Progressive Conservative leader Patrick Brown as an "inside job," and accusing "Toronto elites" in the party of seeking to expel memberships based on race in order to consolidate power.
Push an envelope
. Stand exactly 49.5 meters from the taxpayer-funded baby-grinding centre and let everyone know it:
About 25 demonstrators marched in the Sparks Street slush on Thursday just outside the boundary of the newly enacted "bubble zone" that prohibits opponents of abortion from protesting within 50 metres of a clinic.

The demonstration occurred around the corner from the Morgentaler Clinic on Bank Street, which has been targeted and its staff harassed since it was founded in 1994, according to the clinic.

The protest is in response to Ontario's Bill 163, enacted on Feb. 1, which creates a 50-metre zone around eight abortion clinics in the province. The law also places a 150-metre bubble around the homes of clinic staff and forbids the harassment of abortion doctors or staff anywhere in the province.
Attorney General Yasir Naqvi said last October the government had heard reports that protests had increased across the province, and clinic staff and police have reported escalated protests that have prevented women from accessing the clinic.
(
Sidebar
:
this Yasir Naqvi
.)
Those caught breaking the new law can face fines of up to $5,000 and six months in jail for first offences.
Why not
? Half of the country already belongs to Justin's favourite country:
Now that "all thy sons command" has been excised from the lyrics, is the anthem's reference to God also headed for the dumpster?
This
must be embarrassing:
A Republican memo alleging surveillance abuses by the FBI has been released, intensifying a fight between the White House and GOP lawmakers, on one side, and the nation's top law enforcement agency over whether the origins of a probe into Russian interference in 2016 were tainted by political bias.

President Donald Trump had approved release of the memo without redactions Friday morning.
Also - yes, I found that wienerish, too:
Moreover they picked a Kennedy to deliver this canned, grating response. Which is also a problem, because even if Massachusetts Congressman Joe Kennedy III is a brilliant, sensitive rising star with gleaming lips, part of Trump's appeal was draining the swamp, and going with a dynasty may not be the most "woke" response.
South Korea ranks seventh in the OECD's science and technology capability scale
:

South Korea's science and technology capabilities ranked seventh among the 34 member states of the Organization for Economic Cooperation and Development (OECD) in 2017, a state-run think tank said Thursday.

The Korea Institute of S&T Evaluation and Planning (KISTEP) said the evaluation was based on a total of five categories: research environment, support from both the public and private sectors, and quality of work carried out by scientists and engineers, the results of research, and overall network capabilities.

The Unites States came in first in 2017, followed by Switzerland, Israel, Japan, Germany, and the Netherlands, according to the KISTEP.
It seems to be a dark trend in communist circles
:
The oldest son of late Cuban leader Fidel Castro killed himself on Thursday after months of treatment for depression, state media reported. He was 68.
Why would the UN obstruct a human rights group investigating North Korea's abuses
?
Given the depth of the challenge faced by the UN in addressing the human rights situation in the DPRK, the obstruction of an eminently qualified human rights organisation by one of the UN's own Committees, is deeply troubling.
Just a few arrests away
from
Year Zero
:
Cambodia's opposition leader Kem Sokha was denied bail on Thursday, his lawyer said, in the politician's first appearance since being spirited away to a remote jail on treason charges five months ago.



Kem Sokha was detained in September as part of a sweeping crackdown on the opposition under premier Hun Sen, an authoritarian leader who has clung onto power for 33 years and is determined to win an election in July.




Two months after his arrest Kem Sokha's Cambodia National Rescue Party (CNRP) was dissolved in a court case slammed by Western democracies as a brazen attempt to clear Hun Sen's path to victory in the upcoming poll.




The opposition leader has since been held in a prison near the Vietnamese border, but was driven to an appeal court in the capital Phnom Penh for Thursday's closed-door bail hearing.
And now,
a heart-warming tale of a dog and cat and their friendship
: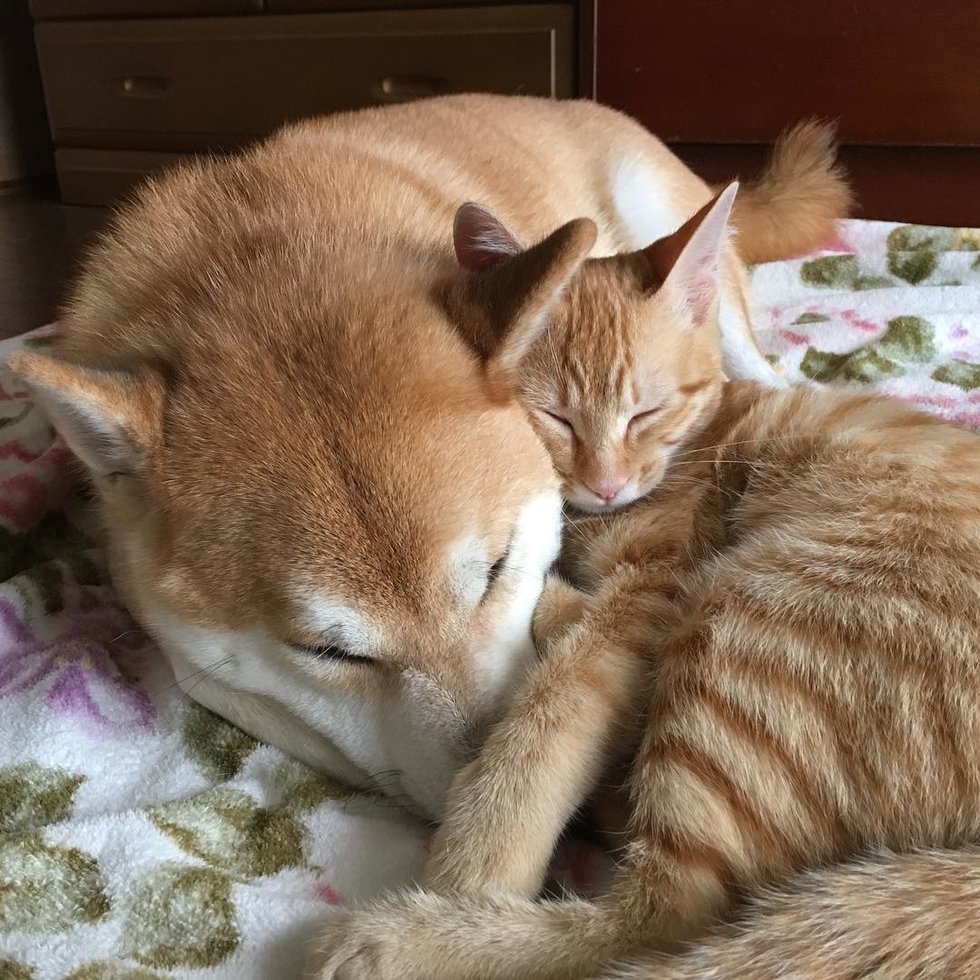 (
Merci
beaucoup
and
Kamsahamnida
)