South Koreans are to elect a new president today
.
More to come.
While fear and acclimatisation might explain France's decision
to embrace
a white capitalist
, it does not excuse the plain fact that the population of a dying continent refuses to see and act against terrorism in its midst:
Living in a Muslim neighborhood of Amsterdam in early 1999, I read up on Islam and realized very quickly what Europe was up against. Two and a half years later, when the terrorist attacks of 9/11 occurred, I assumed pretty much everyone else would get it, too.




But it didn't work that way. Yes, some people did get it almost instantaneously, in both America and Europe. They caught up on a lot of reading, did a great deal of soul-searching, and underwent a major philosophical metamorphosis.




But even after other horrific attacks occurred – in Madrid, London, and elsewhere – a lot of people refused to accept the plain truth. The plainer the truth got, in fact, the more fiercely they resisted it. And as skilled propagandists began to represent Muslims as the mother of all victim groups, many Westerners were quick to buy into it all.




How, again, to make sense of this?




Yes, the mainstream media have played a role, routinely whitewashing Islam, soft-pedaling the Islamic roots of jihadist terror, and staying silent about the dire reality of everyday Islamization. But no one who actually lives in western Europe has any excuse for ignorance about these matters. The truth is all around them. Even in the remotest places, however dishonest the mainstream media, the truth can be found on the Internet.




But – and this is a fact that some of us are thoroughly incapable of identifying with, and thus almost thoroughly incapable of grasping – some people don't want to know the truth. And if they do know the truth, they want to un-know it.
The length of time it would take the Airbus C-295 to reach a disaster site in the Arctic is not a problem, according to the Liberal government
:
Canada's new search and rescue aircraft could take up to two days to reach survivors of a disaster at the North Pole but the Canadian military doesn't have a problem with that, according to recently filed court documents.

A legal battle is now underway in the Federal Court in Ottawa over the Liberal government's $4.7-billion fixed-wing search-and-rescue aircraft program.

The Italian aerospace firm, Leonardo, is angry that its C-27J aircraft, which it contends could reach the North Pole in a single flight from a military base in Winnipeg, was rejected by the federal government.

The winning aircraft, the Airbus C-295, is slower and would take two days to reach a disaster site at the North Pole or similar Arctic locations, Leonardo's representatives argue.

The company is asking the court to overturn the contract to Airbus and instead award the lucrative deal to Leonardo and its Canadian partners.

In its affidavit, Leonardo alleges the Airbus aircraft fails to meet the government's basic criteria since it can't conduct a mission to the outer regions of the military's allotted rescue area within 13 flying hours.

But that isn't a problem, according to the latest response to the court from the federal government. In fact, there are no time constraints as long as the aircraft is capable of flying to that location and staying at the scene for an hour and then returning to an airfield, the government argues.
Oh, really?
The engine for the Airbus C-295 was built by Pratt and Whitney,
a company based outside of Montreal
and
was in debt for $1 billion to the Canadian government (it paid Quebec first)
.
Carry on.
From the most transparent -
and useless
-
government
Canada has ever had:
Prime Minister Justin Trudeau's government appears poised to throw the doors open to allowing charities to participate in political activities.

As a first step, National Revenue Minister Diane Lebouthillier announced last week that ongoing Canada Revenue Agency audits of 12 charities for political activities will be suspended.

They were part of a group of 60 charities which the CRA began investigating in 2012, under the previous Conservative government's Political Activities Audit Program.

Lebouthillier's move comes in the wake of a five-member Liberal-appointed panel advising the government in a report released last Thursday, to allow charities to freely engage in political activities, calling the current rules, which go back for decades, too restrictive and confusing.

The minister said she was suspending the 12 outstanding CRA audits -- seven of which resulted in an intention to revoke charitable status, according to CBC news -- while the government considers all of the advisory panel's recommendations.

While maintaining the current restriction disallowing charities from endorsing specific candidates or parties, charities would be given far more freedom to engage in political activism under the advisory panel report.

It recommends, for example, removing the current restriction that a charity cannot spend more than 10% of its resources on political activities.

The recommendations of this Liberal-appointed panel are no surprise given that Trudeau campaigned in the 2015 election on ending what he called the "political harassment" of charities.
The charities who were the focus of the audits
(no surprise the Liberals came to their aid).
Oops
: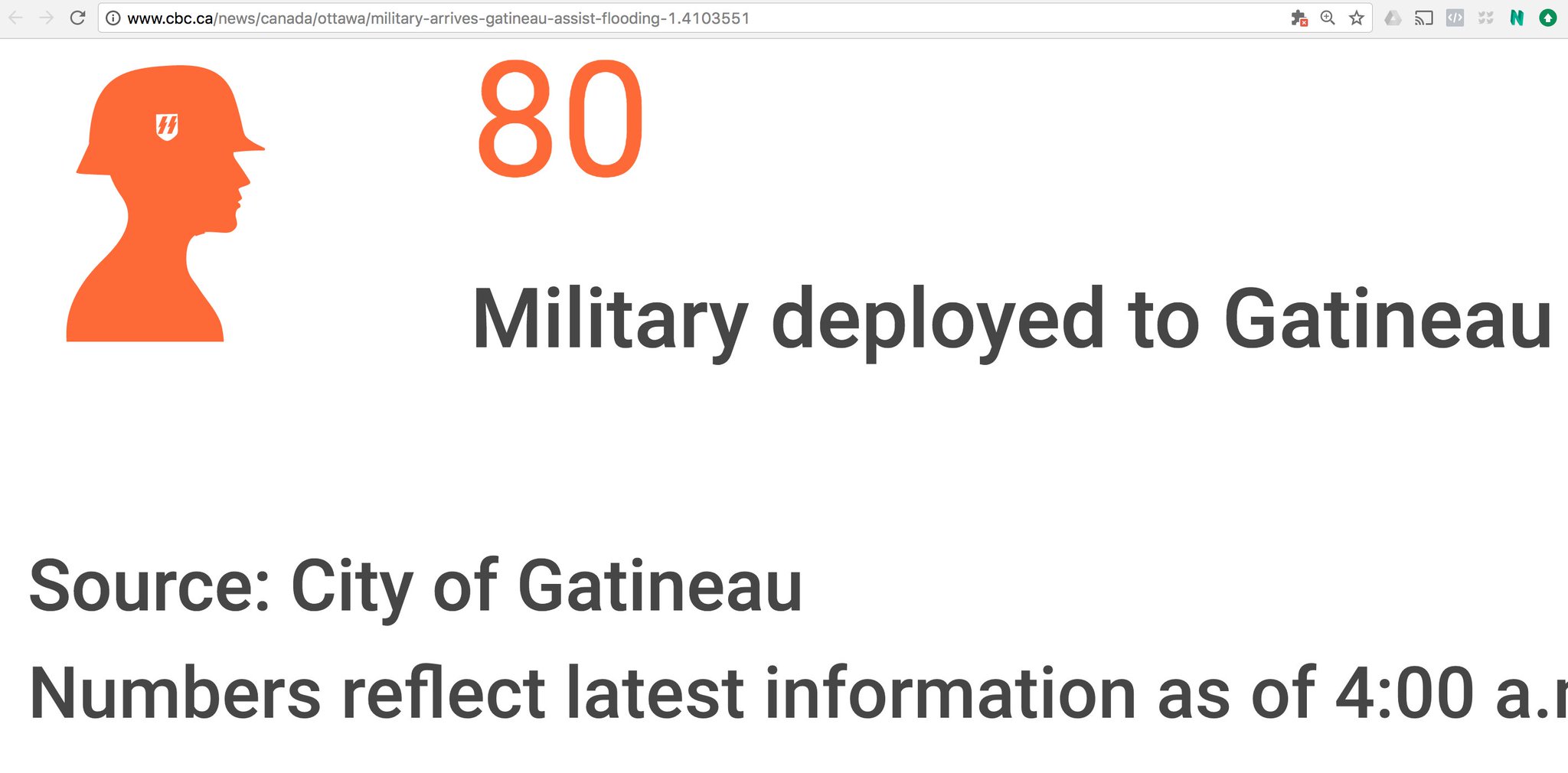 (originally archived
here
)
Oh, CBC. It's like you want to be defunded.
Brad Trost's Spider senses were right about you
.
Some
flood
music
.
Who is the bigger group of morons - the racists of Black Lives Matter or the Toronto police
?
You
decide:
Toronto cops are welcomed at the Pride Parade, so long as they keep their weapons, uniforms and vehicles away.

Pride Toronto said as much in a statement issued Sunday night, aimed at clarifying its position on police participation at the popular summertime event.

According to Pride Toronto executive director Olivia Nuamah, LGBTQ officers and "their allies" are invited to march in the parade provided they adhere to the aforementioned rules.

Those officers can march with "community groups, with the City of Toronto, or even create their own group," the Pride release said.

The parade – namely who can and can't participate - has dominated headlines for all the wrong reasons in recent months, creating a divide among organizations.

Black Lives Matter – Toronto halted last summer's parade with a sit-in and issued a series of demands, including that police be excluded from participating in the event.

In January 2017, those who attended Pride Toronto's annual general meeting voted in favour of banning police – and their floats – from the parade.

Mathieu Chantelois stepped down as executive director of the Pride organization in August.
Black Lives Matter – Toronto sought to have police participation out of the event, suggesting their presence made LGBT black youth and other members of racial and sexual minority groups feel unsafe.

At that time, Toronto police chief Mark Saunders said it would respect those demands. That stance was met with criticism from Toronto Police Association president Mike McCormack.

Toronto City Councillor John Campbell recently suggested putting a motion forward to pull $260,000 in city funding from Pride Toronto.
But ... but ...
everybody loves a parade
!

The Pride Toronto statement did not fool Toronto Police Association president Mike McCormack.
And he's not going to bite or back down.

"It's a cynical effort by Pride Toronto to save their public funding," McCormack told the Toronto Sun.

He was responding to a statement from Pride that had a lot of people shaking their heads in amazement.

"LGBTQ+ police officers and their allies are not banned from the parade. We welcome and encourage their participation to add to Pride this year as members of our community.

"LGBTQ+ police officers and their allies can march in the Parade with community groups, with the City of Toronto, or even create their own group. We are simply requesting that their participation not include the following elements: uniform, weapons, and vehicles."

McCormack said TPA members were insulted.

"Where's the comprise?" he said. "Nothing has changed from Pride's original position. Any member can show up in blue jeans and a T-shirt?"

A police officer, he says, wears their uniform and all of the appropriate equipment that goes with it.
"Paramedics, firefighters and soldiers are all there in uniform and are also very important to the parade," he said.

McCormack wonders which group will be the next target of Black Lives Matter, who the Pride organizers caved to.

"It's the shaming of police officers," he said of banning officers or suggesting they come but not in uniform. "This is what we do. We are in policing." It's particularly troubling, he added, since the "struggle" gay officers went through internally back in the day is also part of this story.

"It was not easy for them. This is their parade too. It's breaking down barriers and empowering officers and allows them to feel comfortable."

But they should not be excluded or asked to not be who they are. "It's supposed to be inclusive at the parade," he said.

That it clearly isn't, he said, the TPA is standing for its members.
It's time to sit back with one's favourite snack and/or beverage and watch this train wreck. Don't take sides. Two fools can't possibly be right.
Socialism sounds good on paper. That's why some people vote for it.
The reality is much different
:
Venezuela has the hemisphere's highest inflation and South America's worst homicide rate. Misguided price controls and state intervention have emptied store shelves, empowered black-market vendors, and turned the search for scarce food and medicine into a daily torment. Now even hidebound Chavistas have turned coat, as prosecutor general Luisa Ortega Diaz did in March, when she decried the stacked Supreme Court's move to usurp the power of the legislature. These apostates helped deliver control of the National Assembly to the country's opposition in the December 2015 elections. A survey in March showed that eight out of every 10 Venezuelans disapproved of Maduro's government, while 63 per cent of those polled in December said they wanted him gone. Even urban slum dwellers, long a reliable Bolivarian demographic, have since joined the street rebellions.

Maduro, predictably, has answered his critics with political whack-a-mole, clubbing every opposition advance with court orders, riot police or the colectivos, as the roving armed bands of pro-government citizens' militias are known. With opponents of the regime leading the polls, the government-pliant national electoral board thwarted an opposition-driven presidential recall referendum and summarily suspended last December's election for governors and mayors, while the comptroller general banned headline opposition leader Henrique Capriles, a two-time presidential candidate, from elected office.
Hey!
Who do you think you are
?
Theresa Spence
?
Israel's Prison Service released footage on Sunday that it says shows the leader of a mass Palestinian hunger strike breaking his fast, a claim dismissed by the Palestinians as an attempt to undermine the open-ended strike, now in its 21st day.
Was it courageous to go after nuns, Barry
?
Speaking of "courageous" (read: cowardly and pathetic):
The leader of the Islamic State group affiliate in Afghanistan who orchestrated audacious attacks that further upended the country's deteriorating security situation was killed in a special operations forces raid in April, the president of Afghanistan said in a statement on Sunday. ...

Commanders decided on a ground assault, instead of another airstrike, to kill or capture Hasib because women and children were living in his compound, said a U.S. military official who asked not to be identified when providing operational details, adding that none of them had been hurt in the raid.
Like,
the way Swedish women have
?
The Girl Scouts in the Czech Republic, however, have much bigger fish to fry. This past May Day, much ado was made about one Czech Scout, Lucie Myslikova, who dared to confront a Neo-Nazi demonstrator while wearing her scouting uniform. Google the event and you'll get a slew of headlines about the teenager who "Stood Up to the Far-Right" and the photo of the "girl standing up to a skinhead" that went viral.



Get past the headlines, however, and you'll find the story is a lot more complex than English-speaking media would lead you to believe.




Much of the coverage follows the line of the AP's follow-up interview with Myslikova. The girl is passionate about politics and believes teenagers should have a voice in the public sphere. This wasn't her first political rally; it was simply the first time she wore her Scout uniform to a demonstration. Her comments emphasized non-violence and non-judgement of the opposition. Of course, the World Organization of the Scout Movement jumped on the free publicity bandwagon, echoing the call for "diversity, peace and understanding."




What, exactly, was she discussing with the skinhead? "The nation," "borders," and "migration." The details of the discussion were quickly brushed aside by Western media anxious to highlight the image of a young woman confronting an adult male—something Fortune was so impressed with that they spun it into a montage of photographs of women staring down men at political rallies across Europe.




According to CNN's coverage, Myslikova "made some profound comments." If you want to know what she actually said, you'd have to translate an article that appeared in the French language publication the Paris Match. There, buried in the last paragraph, is a quote from the exchange between the Scout and the Neo-Nazi regarding immigration. When the Neo-Nazi asserted the teen would be "violated by those she defends," Myslikova replied, "Even if something happened to me, the physical wounds always end up healing."




Would the Girl Scouts care to comment on that remark? Or the English-speaking media, perhaps?
A girl wearing a Scout uniform willingly acknowledged that she could be raped by an immigrant, something that is happening to women across Europe in record numbers. Then, she essentially reasoned, I'll get over it, and the Western world lifts her up as a hero. She justified rape in the name of political discourse. A Girl Scout opened herself up to sexual assault for the sake of her political beliefs.
Silly child.
Already, she exhibits the willingness to bend over for her ridiculous political ideology.
Douchebag
:
That renewed threat prompted interesting commentary from former Obama Homeland Security Advisory Council member Mohamed Elibiary. He claims that the Coptic Christians in Egypt -- the largest Christian population in the Middle East -- have it coming ...
Set your faces to stunned
:
Writing on Twitter—which, for better or worse, is the closest the public has to an agora these days—Shatner was responding to some foo-foo pseudo-academic essay regarding what Star Trek's Captain Kirk character can teach us about gender equality in a postmodern/post-gender society, or something like that, because I have to confess I didn't read the article and would frankly rather have long knitting needles shoved forcefully through my ears than ever have to read, or even ponder the existence of, such an article again. Apparently the term "toxic masculinity" reared its stinky head in the article, to which Shatner responded:

Feminism is great but terms like toxic masculinity are degrading. It borders on that imaginary concept to feminists: misandry.
Yes, post-modern feminists are misandrists in pasty, puffy, shrill form. Having never been acquainted with ritual mutilation or rape but have been the beneficiaries of affirmative action, their "struggles" are less about civil rights than they are about getting louder and fatter.
(
Merci
beaucoup
to
all
)