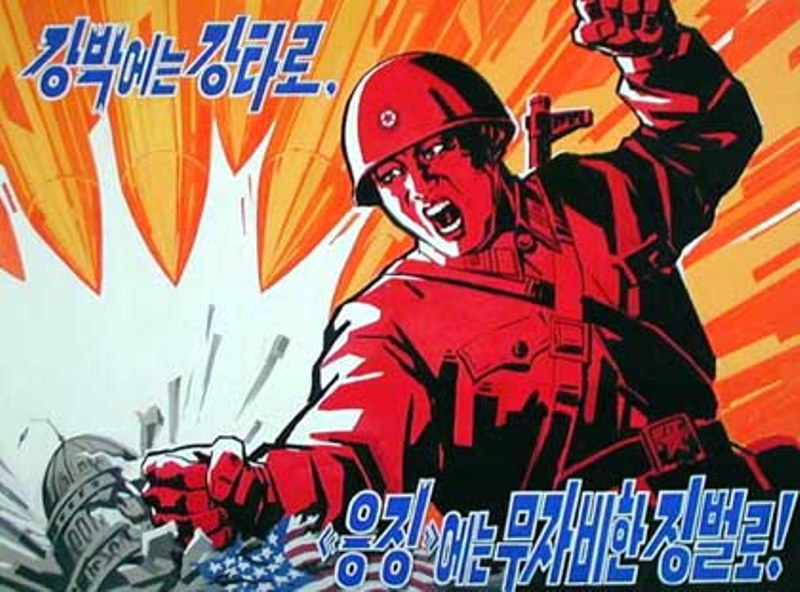 You can run to Singapore
but
you can't run away from the truth
:
The North Korean regime continues its campaign to present leader Kim Jong-un as an approachable modern statesman, with an attractive wife on his arm and other photogenic trappings. ...
The TV announcer also reported Kim's praise of his host, Chinese President Xi Jinping, as an "excellent leader," contrary to past practice of making it seem that there could be only one excellent leader in the world.

Footage also showed Kim casually smoking a cigarette as he chatted with diplomats at the North Korean Embassy in Beijing.
This propaganda makes one forget that he had his family members killed.
But ... but ... I thought that everyone wanted peace
:
A North Korean mouthpiece has come out with a worrying outburst against demands for denuclearization as the afterglow of North Korean leader Kim Jong-un's summit with U.S. President Donald Trump fades.

The propaganda website Sogwang called supporters of complete, verifiable and irreversible denuclearization "traitors of the nation."

"The flunkeys and quislings who are barking out a 'CVID' of North Korea are traitors of our nation," it thundered.

The article is a copy of a story on the summit carried by the Jaju Sibo, a pro-North Korean online newspaper in South Korea. "How many efforts has [North] Korea, or our nation, made to build such a nuclear force?" it adds. "Think about whether the U.S., an arrogant, mean and vicious country, could have shaken hands with [North] Korea if it had not had any nuclear force."

A former Unification Ministry official said, "The North Korean regime sometimes reveals its motives in a roundabout way by using pro-North Korean people in South Korea and overseas."
South Korea and the US will have only minimal military drills
:
South Korea and the U.S. on Monday agreed to prevent annual joint military exercises from being scrapped altogether and continue vital bare-bones exercises.

The agreement came in talks between Defense Minister Song Young-moo and Adm. Philip Davidson, the commander of the U.S. Indo-Pacific Command, in Seoul.

It was Davidson's first visit to South Korea since he took the job last month. He also met with Foreign Minister Kang Kyung-wha.

A government source said Song and Davidson "agreed to continue small-scale search and rescue training exercises."
South Korea, you already have refugees
. They're called North Koreans:
The number of refugees who have fled to Korea for sanctuary now exceeds 35,000 including those whose applications are still pending.

Korea only accepted its first refugee in 1994. Altogether 40,470 have applied for refugee status, and 35,030 are here now, the Justice Ministry said Friday. That means refugees outnumber the 31,500 North Korean defectors living here, who automatically get South Korean citizenship.
Family reunions will take place in August
:
The two Koreas have agreed to resume reunions of families separated by the Korean War on Aug. 20-26.

The two sides agreed in inter-Korean Red Cross talks at Mt. Kumgang in North Korea last Friday that the reunions will take place at a dedicated facility there. They will be the first reunions in two years and 10 months.

One hundred participants from each side will be reunited with family members from the other side. Those with limited mobility can bring a relative to help them.

The two sides also agreed that families torn apart by the 1950-1953 war can send letters enquiring whether their family members are still alive and well by July 3. Confirmation letters are to be sent by July 25, and the final lists of participants will be drawn up on Aug. 4.

South Korea will send an advance team to Mt. Kumgang five days before the reunions to make preparations. Another team will visit on Wednesday to see if any repairs to the venue are needed.

But the two sides failed to agree on making the reunions a regular fixture. South Korea proposed letting all separated families exchange letters and visit each other's hometowns, but the North refused.
Secure in that nothing else will be done to either of them, China and North Korea resume being complete SOBs:
Chinese companies are rushing to North Korea to explore opportunities for economic cooperation and investment amid growing signs of China loosening sanctions on the North in exchange for its repeated denuclearization pledges, sources said Friday.
(
Sidebar
: read - slave labour.)
**
North Korea's state media on Sunday demanded the abolishment of South Korea's human rights act and a foundation dedicated to its enforcement, arguing they only hamper efforts to improve cross-border ties.

The call came weeks after Seoul closed the office for the state-run foundation due to a yearslong delay in its official launch, which was caused by political hurdles. The government, however, pledged continued efforts for the launch.

"The North Korean human rights act, which the cohorts of (former President) Park Geun-hye manipulated, must be abolished, while the North Korean human rights foundation, an institution designed to plot against our republic, ought to be buried away," said Uriminzokkiri, a North Korean propaganda website.
**
South Korean authorities, wary of upsetting a rapprochement with North Korea, are playing down the need to confront Pyongyang's human-rights violations, worrying defectors and activists who have spoken out against the regime's repression.

In recent weeks, President Moon Jae-in's administration closed the physical office of a human-rights foundation that had angered Pyongyang, while a senior presidential adviser said human rights should take a back seat to other matters in discussions with the North.

In addition, while President Donald Trump has raised North Korea's human-rights record this year, notably in his State of the Union address, a joint statement following his summit meeting with North Korean leader Kim Jong Un this month didn't mention the topic. Instead, Mr. Trump called Mr. Kim a "terrific" man who cares deeply for his people, and gave mixed messages over how much they discussed human rights at their meeting in Singapore.
(
Kamsahamnida
)