Much to discuss...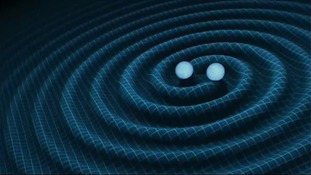 Your scientific WOW of the day
:
The first direct detection of a gravitational wave by two observatories in the United States will offer science a new way of seeing the universe, a sort of gravitational wave astronomy, physicists say.
When you make crazy promises
,
it's easy to break crazy promises
.
Budgets don't balance themselves
.
Withdrawing from the fight against ISIS
sounds like it might appeal to the UN but no one is impressed with wet noodles and
they certainly won't let you cozy up
to a
human-rights
abuser
no matter how much
you admire it
:
United Nations Secretary General Ban Ki-moon praised Prime Minister Justin Trudeau for last year's climate-change charm offensive in Paris, but urged him to spend more of Canada's wealth on the world's poorest people.



The usually staid Ban appeared almost gleeful at times Thursday as he took Trudeau up on his offer to re-engage with the UN during a packed, day-long visit to Ottawa, including high-level meetings on Parliament Hill and a feel-good assembly at a boisterous local high school auditorium.




"I am here to declare that the United Nations enthusiastically welcomes this commitment," Ban declared. He praised not only Trudeau's climate-change advocacy, but his desire to return Canada to its peacekeeping roots — which, he said, Canada helped create under external affairs minister Lester Pearson in the 1950s.




Trudeau has stressed re-orienting Canada towards world organizations — the UN in particular — as part of a new multilateral foreign policy that often tries to invoke the so-called Pearson-era golden age of diplomacy.
The Liberal dissonance from reality is matched by its delusional adherence to weakness and ineffectiveness.
Peacekeepers
didn't take Caen
, Trulander.
Canada is back at the kids' table right where your father left it.
Oh, dear
:
Alberta's NDP have plummeted to third place and Premier Rachel Notley's personal approval rating has plunged just nine months after sweeping the Progressive Conservative Party from power, according to a new poll.

A Mainstreet Research/Postmedia poll of more than 3,000 Albertans this week shows the NDP have just 27 per cent popular support among decided voters — trailing the Wildrose at 33 per cent and the PCs at 31 per cent.
Oh,
this
should be fun:
Black Lives Matter will lead next summer's Pride parade, the event's organizers announced on Wednesday.
And we know how well oil and water mix:
Watch the train wreck.
But I thought they admired Canada's wonderful socialist ways
:
For American citizens living and working in Canada, these are stressful times. As tax season heats up, a growing number of American expats will begin the long, drawn-out process of renouncing their U.S. citizenship in a bid to avoid costly, complicated and onerous tax compliance obligations.
Kim Jong-Un has "military coup" written all over him
:
North Korean leader Kim Jong Un had his military chief executed for corruption and other charges, a South Korean official said Thursday.



If true, the execution of Ri Yong Gil, chief of the North Korean military's general staff, would be the latest in a series of killings, purges and dismissals since Kim took power in late 2011.
Remember that slippery slope everyone warned one about
?
The advocacy organization Dying With Dignity is urging Ottawa to include a provision for advance consent in right-to-die legislation that would allow people diagnosed with dementia to arrange for physician-assisted death while they are still cognitively competent to make the choice.
How desperate are you to get rid of the elderly?
This desperate
?
Tom Mortier never paid much attention to the discussion about euthanasia in his country. "I was like just about anyone else here in Belgium: I didn't care at all," he said in a recent interview. "If people want to die, it's probably their choice. It didn't concern me."

Then in April 2012, Mr. Mortier, a university lecturer, got a message at work. His 64-year-old mother, in the throes of severe depression, had been euthanized the previous day. He would need to make arrangements at the morgue. His mother, Godelieva De Troyer, had largely broken off contact with her family but informed him by email three months earlier that she was looking into euthanasia. He never dreamed her request would be granted because she was in perfect physical health.
Also
:
As the expiration of Canada's laws against physician-assisted death moves closer, a group of Catholic bishops in Alberta has come out strongly against the change.




The letter from the bishops, which calls physician-assisted death "morally wrong" and "state-sponsored killing," marks the latest public expression of dismay or support as the country prepares to shelve the law that makes euthanasia illegal.




Canada's current laws banning physician-assisted death will expire in June, after the Supreme Court of Canada granted the federal government a four-month extension on Jan. 15.




"When any life can be taken at will, the dignity of all lives is seriously eroded and respect for human lives in our society as a whole is diminished," reads the letter, which was released on Thursday and signed by six bishops from across the province.




"Too bad today's Calgary Herald reads 'Stop Taxing the Sick.' It would have been much better if they had written 'Stop Killing the Sick,'" Calgary bishop Frederick Henry tells Yahoo Canada News in reference to the paper's editorial about hospital parking fees. "The parking fees are an annoyance, but killing people is not medicine."
And now,
many happy returns to the woman who occupies the heads of leftists for free
.
This lovely Lady
, too.