A story about a recent migrant bullying a girl at a Halifax school
has gone the memory hole
(
Sidebar
: that's funny. The story seemed to be complete when it was first run.)
But not entirely
.
The article as it first appeared:
Concerned parents are reporting incidents of violence by refugee students at Chebucto Heights Elementary School.

Reports of students choking, pushing, slapping and verbally abusing their fellow classmates are causing parents to worry about the school's disciplinary action.

"There has always been some fighting and bickering going on at the school but never to this degree," said Missy, the mother of two children who attend Chebucto Heights. She asked to be referred to by her nickname for this story.

Missy said her daughter, who is in Grade 3, was choked on Monday and Thursday last week by two refugee boys. A chain was used on both occasions, but she cannot confirm the size or strength of the chain. She said one boy yelled "Muslims rule the world" while choking her daughter. School staff intervened, but to her knowledge, the students were not disciplined further.

According to the Halifax Regional School Board, refugees began registering at Chebucto Heights, located in the Cowie Hill neighbourhood of Halifax, in mid-February.

School board spokesman Doug Hadley said, as of last week, there are currently 252 refugee students enrolled in the region, with another 71 waiting on settlement of permanent housing.

Missy's son, who is in Grade 5, has also been the subject of rough play on the soccer field. During games, refugee students reportedly take their thumb and slide it across their neck from left to right while staring into the eyes of their competitor; imitating the slicing of the throat.

Missy said the school's response to this and other on-field violence was to cancel intramurals and soccer. But cancelling of recreational activity is not beneficial to students like Missy's son who has ADHD and relies heavily on physical activity.

"Soccer is what gets my son through the day," she said.

When asked about the violence at Chebucto Heights, Hadley said he couldn't confirm whether an individual student had been involved in any behaviour that broke the board's code of conduct.

He said there's no connection between the cancellation of extracurricular activities and any violent behaviour. "There's a term teacher at Chebucto Heights that is finished their term in the next week or so, and they just finished the unit on soccer," he said. Intramurals will resume in May when the next term teacher begins.

Another mother, who asked not to be named, said her daughter was slapped after she and a classmate disagreed in the schoolyard. Her daughter reported the incident to her teacher.

"The school didn't even call me to let me know."

She called and left a message, but said no one has returned her call. She said her daughter begs not to go to school because of the persistent bullying.

A language barrier could be a factor. Many refugee families do not speak English and integrating students into a primarily English speaking environment is bound to cause a few problems.

Missy suggests having an interpreter on staff to help new students understand curriculum or the reason for disciplinary action. "I'm all for the transition," said Missy.

"I just think there should be people in the school to help and guide them."

The school board says there are currently 19.5 English as a second language teachers working in regional schools. "We have a long history of welcoming newcomers all over the world to Nova Scotia," said Hadley. He encourages an open stream of communication between the school staff, students and parents.

"It doesn't matter if the student is new to Canada or if they have been in school for many years in our system," said Hadley. "Schools would address it no matter who the child is the same way."
Screen caps of the article:
So what is the real story here: the immediate retraction of this story, the rationale of the popular press for its removal, the content of the article, the fact that the white-washing of this grotesque act has proceeded in full-swing?
Why not all of the above?
I don't believe for one moment that the popular press is capable of reporting basic facts and in a timely manner.
Walter Duranty deliberately kept the Holodmir from the public
,
the American press helped the Viet Cong defeat American troops
and,
with the exception of one lone Brazilian columnist
, not one established member of
the Fourth Estate
ever held PM Trulander's feet over the fire (more on that later).
Union General William Tecumseh Sherman had the right idea
:
I hate newspapermen. They come into camp and pick up their camp rumors and print them as facts. I regard them as spies, which, in truth, they are. If I killed them all there would be news from Hell before breakfast.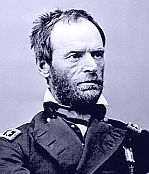 William Tecumseh Sherman: a man before his time?
Let one assume for the moment that the story was withdrawn, not for the convenient and saccharine reasons of "newcomers" and "bullying" but because it really was incomplete. So why did the story run? If it did not happen at all or did not happen as reported, why run the story? Why not hold off until all the facts were straightened out? Does the Chronicle-Herald not have editors or fact-checkers?
Apparently not.
Even after the dust settles, the Chronicle-Herald still couldn't hold up its head with what it would then be regarded as a "complete" story.
Nobody likes a forked tongue or a jack@$$, Chronicle-Herald.
It is more than likely that the Chronicle-Herald realised the error of letting the public know what kind of unvetted migrants the government was letting in and made a hasty move to censor the story and apologise for its demise with the flimsiest of excuses. Bullying is serious and newcomers are welcome and so forth. These are serious issues and not to be misunderstood like language barriers, which the mother in the article accepted as perfectly reasonable explanation for why two boys jumped on her daughter, strangled her with a chain and then shouted: "
Muslims rule the world
". Normally, if I had some linguistic difficulty, I would attempt to make my point by learning a language, getting an interpreter or making some sort of gesture or diagram.
But - you know - bigotry of lowered expectations and all that. One simply can't expect these poor, oppressed masses to learn a language, so, you know, violence.
We, therefore, should flagellate ourselves when they go full Cologne, Stockholm, Brussels or various places in the United Kingdom. They have "
incomplete
"
reports
, too.
But why the self-flagellation? How can an entire civilisation be so bereft of even its own identity that it would tolerate and help excuse such perverse acts in its midst?
A question for our time.
The movement to boost the ego of mediocre snowflakes also helps incriminate them by "checking their privilege" or apologising for their predecessors' ability to forge lives for themselves in some sort of
bizarre Khmer Rouge group-think exercise
:
"When it came to people being, to use their terms, 'built,' 'constructed,' or, like a piece of iron, 'tempered'–these are all metaphors that they used–two of the most direct vehicles were meetings that the Khmer Rouge would hold, in which people would talk about revolutionary ideology but also involve self-criticism and discussions of character weakness, and the individual writings of personal histories and biographies," he said. "If you had bad traces in your background, you were supposed to constantly reflect on them and try to purify yourself by upholding revolutionary morality."
(
Sidebar
: more on the Khmer Rouge's war on people and literacy
here
.)
Couple that with deliberate ignorance and elevation of otherwise mediocre persons to positions of prominence, one has the nightmare of the Khmer Rouge regime without
the krama
.
I wish I was being hyperbolic here.
Perhaps in the next few days, one will read the "completed" (rather: excised) version of events and even have one of one's ideological betters explain things to one.
Put money on that.
In other news...
Tom Mulcair is out as the leader of the NDP
:
Members of the NDP have soundly rejected Tom Mulcair's bid to stay on as the party's leader, voting 52 per cent in favour of choosing a replacement within the next 12 months.
A coherent and serious leader of his party, voters, it seemed, would rather embrace the Liberals' idea of financial ruin than the NDP's one.
A Brazilian columnist calls out
a failed substitute drama teacher
with no accomplishments of his own and
who inherited his money
from his
Nazi-supporting, communist-dictator-loving dad
for what he is -
ordinary
:



Gryzinski pulls no punches when she refers to Trudeau as "the embodiment of vaguely leftist and confusingly well-intentioned liberalist dreams, a handsome guy who shamelessly shows off his physique and preens for photos in yoga poses."




The former executive editor goes so far to as to say Trudeau supports terrorism because he welcomes Muslim immigrants, has attended mosques and worn traditional outfits.




She says the Islamic State praised Trudeau's election, maybe because he stopped Canada from participating in airstrikes against the caliphate.




The column rakes his mother Margaret Trudeau over the coals for her drug use and affairs when married to Pierre Trudeau and says she later "abandoned her children."




Justin Trudeau's wife, children and his hair are the only things spared from Gryzinski's critiques.
Canada's media gets a jab from Gryzinski too, referred to as "sycophants" who show Trudeau a "self-destructive deference."
Well, Fourth Estate, without mentioning "Harper, bad. Trudeau, hair", list PM Trulander's
actual
qualities and successes that make him, at the
very, very
least, a satisfactory leader.
I'll wait.
Calling PM Trulander "ordinary" or even mediocre is giving him far too much credit.
He was extolled as a leader because of his dad's name
. He was to bring back the "glory days" of
inflation, unemployment
and
his father's celebrity antics
.
Well, PM Trulander has certainly done that.
Whatever will the popular press say when Trudeau gets
his second @$$-kicking
by
Ted Cruz
?
Now, THERE would be a boxing match worth watching.
I'm sure the popular press would doing its level best to convince everyone that PM Trulander meant to fold up like a cheap suit.
Oh, buuuurrnnn!
The "man in the hat" has been caught
:
After nearly three weeks of frantic searching, Belgian authorities announced Saturday they had finally arrested and identified the elusive "man in the hat" spotted alongside two suicide bombers who blew themselves up at Brussels Airport on March 22.

In a terse evening statement, Belgium's Federal Prosecution Office said recently detained Mohamed Abrini — the last identified suspect at large from the Nov. 13 Paris attacks — had confessed to being the vest- and hat-wearing man whose video image had been widely circulated by authorities.

"After being confronted with the results of the different expert examinations, he confessed his presence at the crime scene," the statement said.

The revelation that a Paris suspect escorted two of the Brussels bombers to their deaths at the city's airport is among the strongest signs yet that the attackers who struck both cities — killing a total of 162 people — were intimately linked. ...

Surveillance footage placed Abrini in the convoy with the attackers headed to Paris ahead of the Nov. 13 attacks there that left 130 people dead and hundreds wounded. He was a childhood friend of brothers Salah and Brahim Abdeslam, both suspects in the Paris attacks and he had ties to Abdelhamid Abbaoud, the attackers' ringleader. His fingerprints and DNA were not only in a Renault Clio used in the Paris attacks but also in an apartment in the Schaerbeek area of Brussels used by the bombers who blew themselves up in the city.
Oh, it gets worse
:
The extremists who struck Brussels last month and killed 32 people initially planned to launch a second assault on France in the wake of the November attacks in Paris, authorities said Sunday.



But the perpetrators were "surprised by the speed of the progress in the ongoing investigation" and decided to rush an attack on Brussels instead of going back to France, the Belgian federal prosecutor's office said in a statement. It didn't provide any details on the initial French plot or its targets.
Saudi Arabia won't bring in migrants because it fears terrorism but
it sure does treat its jailed terrorists well
:
The "guests" are issued key cards for their rooms, receive three catered meals per day and sleep in luxury suites outfitted with big-screen TVs, king-size beds and shiny wallpaper.

They call it the Family House, and it feels like a boutique hotel, if you can overlook the lack of windows, the towering walls outside and the location — inside one of Saudi Arabia's high-security prisons for jihadis.

The house is designed to give jihadis who behave well a respite from inmate life and help them reconnect with their wives and children, and perhaps even conceive new ones.

That positive reinforcement is emblematic of the Saudi approach to its homegrown jihadi, which would not translate well to the West. Those who have done their misdeeds abroad and have not participated in attacks at home are generally regarded as misled Saudi sons who need to have their thinking corrected so they can return to society as good, obedient subjects.
I'm quite sure.
And now,
next April 9th will be the anniversary of the decisive yet bloody victory at Vimy Ridge
:
The Battle of Vimy Ridge was a horrific fight yet a defining moment in Canadian history. More than 10,500 Canadians were wounded – about 3,600 of them killed – during the battle, which occurred April 9-12, 1917.

With the one-year countdown to the 100th anniversary of Vimy Ridge now begun, Vimy Foundation director Jeremy Diamond is aiming to increase awareness about the battle's importance across the country.

The Vimy Foundation recently commissioned an Ipsos Reid poll sampling 1,005 Canadians about their knowledge of the Battle of Vimy Ridge. According to the poll, 83 per cent agreed that the 100th anniversary of the battle should be one of the most important celebrations during Canada's 150th birthday in 2017. That number is up slightly from 75 per cent last year.

Diamond says the organization is expecting that next year's gathering at the battle site in northern France will be the largest one since the original pilgrimage was made in 1936 to unveil the Vimy monument.

"We are hearing from people on a regular basis about the centennial," Diamond said. "There is this incredible energy and interest from people a year out that want to be involved because they know this is going to be something special."

According to the Ipsos Reid poll, one in 20 Canadians say they or someone they know is planning to travel to France for the centennial celebration. Many will be visiting the battlefield for the first time.
(
Merci
beaucoup
)