Your crease of the work-week....
I'm sure that this is nothing to worry about
:
Canada will try to supplement planned government investment in infrastructure with funding from private investors and wants to make the projects attractive to pension funds, Prime Minister Justin Trudeau said on Wednesday.



Trudeau's Liberals won an election in October on a promise to run three consecutive annual budget deficits of up to C$10 billion ($7.9 billion) to help fund investment in the country's infrastructure, and will seek to boost that expenditure with private funding.
PM Trulander asked to launch an inquiry into Afghan detainees
:
A coalition of human rights advocates and current and former parliamentarians and diplomats is calling on the Liberals to launch a public inquiry into the handling of Afghan detainees.



The group released an open letter to Prime Minister Justin Trudeau on Wednesday, saying it's time for him to do what the previous government would not — hold a full and open investigation into the policies and practices around Canada's transfer of captured Afghans to local authorities during the war in Kandahar.




Allegations those detainees were abused, in violation of international law, first surfaced publicly in 2007.
A report was released on June 27th, 2012. It found that there were
no incidents of wrong-doing on the part of specific members of the Canadian Armed Forces
as alleged by suspected Taliban members. More than likely,
any actual cases of torture were the fault of Afghan interrogators and police
, the same who raped children with impunity.
It should also be noted that the person partly spearheading the request for this inquiry is
Amir Attaran
who has never met an opposition government he didn't like.
Tory MP Michelle Rempel's legitimate question about ESL classes for the migrants forced on the Canadian public is met with laughter
:
A response from Immigration Minister John McCallum may have been hysterical to his colleagues in the House of Commons, but one Tory MP wasn't laughing.




Conservative MP Michelle Rempel questioned McCallum again on Tuesday about funding cuts to language training for refugees.




"Yesterday, when the minister stood here and glibly claimed that he had a plan to address language training, was he looking at these cuts, or was he planning his next photo op?" asked Rempel.
McCallum's quip in the House on the subject drew laughter and applause from members on both sides of the aisle.




"Mr. Speaker, if the government wanted to send somebody somewhere for a photo op, I suspect there are people in this aisle they would probably send before they send me," said a smiling McCallum.
Very funny, Rummy, but you didn't answer the question. Not acclimatising new populations to the laws, customs and languages of the majority population is a great way of creating a serf class. Now, I realise that we are all serfs to the Liberal party, Mr. McCallum, but the ummah might not feel that way.
Do you know how to say "I surrender" in Arabic?
Come Canada Day, Prime Minister Justin Trudeau's family will be down to one publicly funded nanny.




A cabinet decision released Tuesday shows that Marylou Trayvilla, who has worked for the family since before Trudeau became prime minister, will be off the public payroll on July 1.




The notice posted to the Privy Council Office website gives no reason for the dismissal. The Prime Minister's Office says the family will seek a replacement to watch after their three children, but won't be asking taxpayers to pick up the bill.




Spokesman Olivier Duchesneau said the Trudeaus plan to hire a caregiver and pay the salary out of their own pockets.




He says the status of the other nanny, Marian Pueyo, remains unchanged.
Have they decide on someone cheaper? Does Mrs. Trudeau need another assistant?
As usual, there is more than meets the eye to this.
Just in time for Ramadan
:
Two Palestinian gunmen killed at least four people at a popular shopping and restaurant area in Tel Aviv on Wednesday in an attack that sent diners, some clutching small children, running for their lives just outside Israel's Defence Ministry.



Both gunmen, identified by police as Palestinians from a village near the city of Hebron in the Israeli-occupied West Bank, were apprehended, and one was wounded.




Security footage showed the pair, dressed in suit and tie and posing as customers at a restaurant, suddenly pull out automatic weapons and open fire, shooting one man point blank, as other diners fled.




Police said the assailants killed four people in the 9:30 p.m. (1830 GMT) assault and that six were wounded.
Pakistan on a Wednesday
:
A Pakistani woman was arrested Wednesday after dousing her daughter with kerosene and burning her alive, allegedly because the girl had defied her family to marry a man she was in love with, police said.



Police official Sheikh Hammad said the killing took place in the eastern city of Lahore, the country's cultural hub, and that the mother was arrested the same day.




The suspect, Parveen Rafiq, has confessed to tying up her 18-year-old daughter Zeenat Rafiq to a cot after which, with the help of her son, Ahmar Rafiq, she poured the oil on the girl and set her ablaze, Hammad said.




Nearly 1,000 women are killed each year in so-called "honour killings" in Pakistan for allegedly violating conservative norms on love and marriage.




A schoolteacher, Maria Bibi, was assaulted and set on fire last week for refusing to marry a man twice her age. Before she died, she managed to give a statement to the police, testifying that five attackers had broken into her home, dragged her out to an open area, beat her and set her ablaze.




The prime suspect in the case — the father of the man she refused to marry — and the other four are all in custody.




A month earlier, police arrested 13 members of a local tribal council who allegedly strangled a girl and set her on fire for helping a friend elope. The charred body of 17-year-old Ambreen Riasat was found in a burned van.
Attention-getting scheme or
hoax in the making
?
You
decide:



TV producer Shadi Petrosky posted a tweet of her exchange with a Minneapolis-based Airbnb host from 2015, in which she was refused lodgings after disclosing she was trans. The host said she was worried her 13-year-old-son would be uncomfortable with Petrosky in the house, but thanked her for her "honesty".

Petrosky claimed that after she reported the incident to Airbnb, the company failed to remove the host from the home-sharing service. Later, Airbnb upgraded the host's subscription to "super-host", which rewards users who consistently get five-star reviews from guests.



Despite complaining to the company last year, it was only after Petrosky's tweet went viral on Monday (6 June) that Airbnb finally took action and suspended the host. Nick Pappas, the company's public affairs director, said in a statement: "Discrimination has no place in the Airbnb community. We are removing this host from Airbnb."
Gee, Mr. Petrosky got a lucky break against a mother. Bravo, guy!
More than a year after Courtney Baker had her daughter Emersyn Faith, she decided it was time to write a letter to the prenatal specialist who encouraged Baker to abort her child.




Emersyn, or Emmy for short, was diagnosed with Down syndrome prenatally, and Baker explains that the doctor "repeatedly suggested we abort. He said her and our quality of life would be horrible."




So Baker wrote the letter, and with her 15-month-old's help, they mailed it to the doctor in late May. The contents of the letter were then shared to the Parker Myles Facebook page, which highlights inspirational content about children with Down syndrome. It has been shared more than 2,400 times at time of writing.
If the specialist had even an iota of humanity, he might want to feel ashamed.
Russian Sports Minister Vitaly Mutko wants all retested doping samples from the 2008 and 2012 Olympics to be thrown out because of alleged flaws in the reanalysis process.




"A laboratory which falsely declared a positive test result must be stripped of its accreditation and all the samples it tested must be declared invalid," Mutko told Russia's Tass news agency on Wednesday.




The IOC has reported 55 positive findings in retesting of stored samples from the 2008 Beijing Games and 2012 London Olympics. The Russian Olympic Committee has said 22 of the cases involved Russian athletes, including medallists .




Russian officials said two of the athletes were cleared when their "B'' samples tested negative, contradicting the positive "A'' samples.




Mutko said those two cases were enough justification for the entire retesting program to be scrapped.
And people in hell want ice water, Mr. Mutko.
At 8 a.m. PT on May 29, Jackie King picked up the phone to the elated voices of her colleagues onboard the CCGS Vector, a science vessel patrolling B.C.'s Central Coast.




"I can't believe they see a basking shark and I'm talking to them right now," said King, recalling her thoughts that morning. "It was a lot of excitement for sure."




King herself has never seen a basking shark, but says she's dreamed of it.




The endangered shark is the size of a bus, the largest fish in Canadian waters and used to hang out in groups of 100 or more off the B.C. coast.




But they're now so rare — thanks to a federal eradication program and commercial fishery decades ago — that the couple of sightings in Canada each year is cause for celebration for those who hope these gentle giants can come back.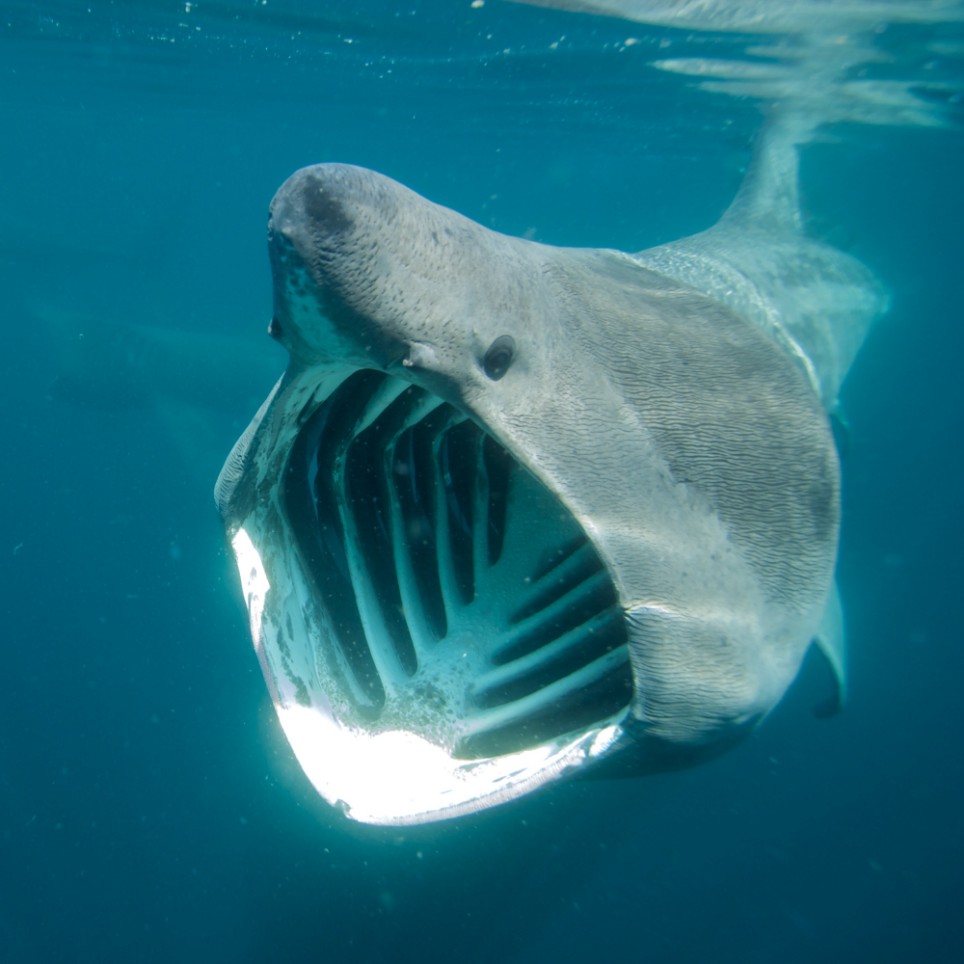 You're going to need a bigger mouth.