A merry summer's day to all y'all...
Just in:
the federal government has reached a deal to expand the Canada Pension Plan
:
Most of Canada's finance ministers reached an agreement in principle Monday to revamp the Canada Pension Plan, although Quebec and Manitoba have not signed on to the deal.

Under the agreement, which would go into effect in 2019, an average Canadian worker earning about $55,000 will pay an additional $7 a month in 2019. That would increase to $34 a month by 2023.

Once the plan is fully implemented, the maximum annual benefits will increase by about one-third to $17,478.

Finance Minister Bill Morneau said the deal will improve the CPP in a way that will make a difference to working Canadians.

"We have come to a conclusion that we are going to improve the retirement security of Canadians, we're going to improve the Canada Pension Plan that will make a real difference in future Canadians' situations," he said.

Morneau said Quebec, which has its own pension plan, and Manitoba continue to be part of the process, despite not signing on to the agreement.
You voted to be taxed back into the Stone Age, Canada.
After fourteen Nepalese guards were killed in Afghanistan
,
PM Trulander shakes his fist
.
Whatever,
bacha boy
.
A pig's head was allegedly left outside of a mosque in Quebec
(I say allegedly because it wouldn't be the first time someone cried "
Islamophobia
" and
was
later
proven
a
liar
):
A pig's head left outside a Quebec City mosque is the latest in a string of incidents pointing to a rising tide of Islamophobia in the provincial capital and across Quebec, says a prominent anti-discrimination activist.




Haroun Bouazzi, co-president of the Association of Muslims and Arabs for a Secular Quebec, said there's a "real fear toward places of religious worship in our society," particularly mosques.
Bouazzi said negative comments about Muslims from politicians, including Quebec City Mayor Régis Labeaume, haven't helped matters.




"Politicians play on those fears, unfortunately," Bouazzi told Radio-Canada on Monday.
Labeaume recently speculated that Montreal mosques are hotbeds of radicalization.




He has also said Quebec City would favour Syrian families as refugees over single men because they are "less frightening to people," Bouazzi pointed out.
That's a crying shame. It's also a shame when
the Church of the Nativity was used as a toilet
or
when a Hindu temple had a cow carcass strewn about the place
.
Go start a candlelight vigil or something.
Speaking of candlelight vigils...
Controversy over gay and lesbian rights flared up on two fronts Monday in a conservative-leaning rural area of southeastern Manitoba sometimes referred to as the province's Bible Belt.
(
Sidebar
: I see what you did there. But what about
the Koran Belt
?)
The region's Conservative MP said he would not attend a pride march because of his personal beliefs and two women filed a human rights complaint over the lack of same-sex education in local classrooms.
So what?
Finally! Someone who would rather do
anything
else than watch various members of the sexual alphabet soup gyrate in pink body paint.
Besides, these days
the party crowd is a walking target
.
What? Too soon?
From the same health minister who promises to clear hospital beds in the next decade
:



The new policy, which was previously an abstinence period of five years, will kick in Aug. 15, Health Minister Jane Philpott announced Monday.




"I think the current limitation of five years is completely unrealistic and basically says to a gay man, 'You need not ever give blood,'" Dr. Mark Wainberg, director of the McGill University AIDS Centre and former president of the International AIDS Society, tells Yahoo Canada News. "A better improvement, actually, would be to say to a gay man, we'll accept your blood."




This position is supported by medical research that indicates modern-day testing methods can catch contaminants in the blood supply. Other countries have shortened or removed their ban without any measurable effect on the risk levels of their blood supply, according to several studies.




"The testing is so sensitive now," Dr. Wainberg says. "It's so ultra-sensitive that the blood supply is being tested by the most modern approaches imaginable. We haven't moved with the technology."




The ban on blood donations from men who have sex with men came at a time when testing technology was less sophisticated, Dr. Wainberg says, and when gay and bisexual men did make up the majority of people with HIV and AIDS. With better testing technology, less stigma around the disease, and more understanding of HIV/AIDS we can have guidelines that focus on excluding donors with behaviours like multiple sexual partners or injection drug use instead of disallowing donations from large groups of people, Dr. Wainberg says.
There are reasons why blood donated by gay men is banned from blood banks
,
as there are reasons why blood from people who have travelled to areas where malaria and the Zika virus are common. And though the above article referenced an Australian study done in 2010 concerning blood donations by gay men,
the Australian Red Cross Blood Service makes it clear that anyone who has had sexual contact, same-sex or otherwise or has had a fling with someone who has lived overseas, cannot donate in a period of twelve months
.
But if Dr. Wainberg and Health Minister Philpott would jab themselves with a needle previously used by an allegedly celibate gay man, then I suppose it should be alright for everyone else.
North Korea warns an American missionary not to criticise it
:
North Korea said Monday it won't negotiate to release arrested American citizens if a former detainee doesn't stop using what it called slanderous language about the North.



American missionary Kenneth Bae, who was freed by North Korea in 2014 along with another imprisoned American, has written a book about his detention and given media interviews in which he described the treatment he received. Bae had been serving a 15-year sentence with hard labour for alleged anti-state activities.




North Korea's official Korean Central News Agency described Bae as a "filthy object" and a "Judas" who betrayed the North's humanitarian gesture. It also accused the U.S. government of supporting critics of North Korea like Bae to arouse hostility toward the North.




North Korea is extremely sensitive about any criticism of its leadership and political system. It is known to hold two other Americans for alleged espionage, subversion and other activities.
For that, I would take out billboard space.
Speaking of socialist failures...
In the last two weeks alone, more than 50 food riots, protests and mass lootings have erupted around the country. Scores of businesses have been stripped bare or destroyed. At least five people have been killed.

This is precisely the Venezuela its leaders vowed to prevent.
No kidding
:
A retired Japanese admiral says President Obama's strategy to neutralized China's territorial claims to a man-made reef in the South China Sea are almost entirely meaningless — and may actually serve to embolden the communist regime.
And now,
a feel-good story
:
A Canadian Lowe's store recently hired a man who was having difficulty finding a job because of a brain injury and a support dog.
Lowe's Canada took to social media to announce that it had brought on staff an inseparable pair, and had even made a custom vest.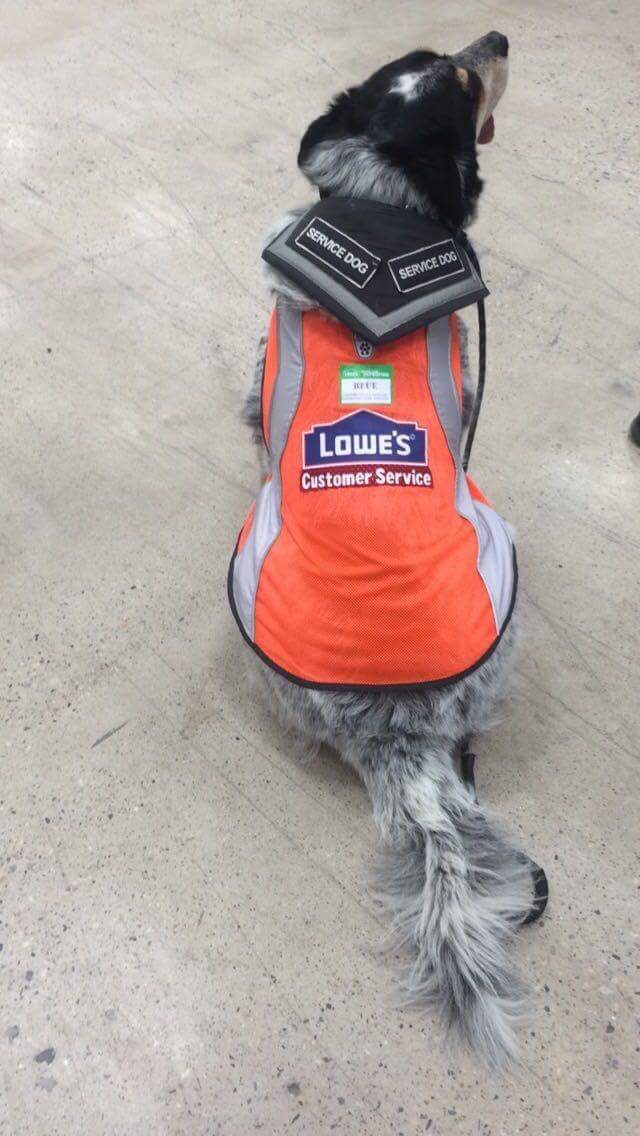 Once again, dogs bring out the best in humanity.