"I am a Japanese and a brother of the Society of Jesus. I have committed no crime. The only reason I am condemned to die is that I have taught the Gospel of our Lord Jesus Christ. I am happy to die for that and accept death as a great gift from my Lord."
Carbon taxes do not benefit the environment nor do they give the government tools to tackle pollution because carbon is not a pollutant. Carbon taxes are a war on the poor.
And the government knows it
:
Federal finance department officials have calculated how much more Canadian households could pay each year as a result of a pending federal carbon tax but neither the department nor Finance Minister Bill Morneau will share those details.

Morneau is being challenged in Parliament by Conservative MP Pierre Poilievre to publish that information while Saskatchewan Premier Brad Wall, who, like Poilievre, is an opponent of a federal carbon tax, has been challenging Prime Minister Justin Trudeau to do the same.

Both men say they believe the Trudeau government should provide Canadians with information about the financial consequences to individual households of the pending carbon tax.
And:
do Canadians deserve the blame for broken wacky election promises, higher taxes and gross incompetence
?
You bet they do because when some trustifarian tells everyone that
budgets balance themselves
and
three periods of debt aren't so bad
and
STILL
vote for the imbecile
who wastes time and money
,
freezing in the dark
is the very least of what they deserve:
To a peculiar degree, the fatuities politicians spout during and between elections accurately reflect their thinking. And it must be possible to believe such stuff sincerely, because millions of Canadian voters did. Including spending recklessly within a balanced budget and painlessly dumping our time-tested, admittedly imperfect voting system for some universally popular, unspecified alternative from the land of Oz.

It does not excuse the Liberals constructing an extravagant platform from planks they did not even try to understand. But it is collapsing under our weight too.
You are being too generous, sir.
Anyone who voted Liberal deserves to be publicly horse-whipped.
Also: if the current PM is not going to be ousted any time soon,
it is a pointless distraction to imagine Trump under similar circumstances
:
Let's call this the Crazy Prime Minister Scenario: We wake up one morning and Justin Trudeau is appearing in an emergency broadcast to outline how he's abandoning all his other prime ministerial duties in order to focus exclusively on fighting invisible leprechauns.
(
Sidebar
:
like that would never happen
!)
Within seconds, everyone in Ottawa is suddenly scrambling to figure out how to get rid of him. In ideal circumstances, the Crazy Prime Minister is simply shunted out the door in one of those caucus coups that the British and Australians are so fond of. But the caucus coup is still dependent on a shunned leader politely deciding to resign. The Crazy Prime Minister, however, can simply prorogue parliament, dismiss the cabinet and begin filling civil service positions with compliant lackeys. At that point, the only thing the (prorogued) House of Commons can do is to withhold funding. Eventually, Prime Minister Crazy is going to run out of money. And when they convene parliament to get a budget bill, their joyride will come to an end with a vote of non-confidence.

Can the Governor General save us?
Yes, in fact. The Governor General currently ranks among the most useless government jobs in Canada — but the office suddenly becomes very important if a maniac gets into the PMO.
But... but... we're not American!
Canadians may not be as tolerant of refugees and immigrants as they might think, a new study concludes.

The study, a project of the McGill Institute for the Study of Canada (MISC), also found that while attitudes among Canadians towards refugees and immigrants range largely from positive to benign, those views are not necessarily strongly held.
**
Canadians have always had an inflated opinion of themselves, a self-consciousness that reeks of the desperation to be self-possessed. They do the opposite of what Americans do not because these things are proper or practical but to be contrary. Canadians embrace political multiculturalism when such a thing does not lend itself to unity or a greater understanding of other cultures or a better understanding of one's own. Instead it comes across as a shallow familiarity and snobbery. It is doubtful that the urban dwellers who determine what is the national identity have these huddled masses in their backyards. Nor do they understand the depth and breadth of demographic multiculturalism and the national fraternity of the so-called melting pot wherein one's ancestors do not separate the newer generations from the whole.
Now, it's all catching up to them.
Oh,
this
might be embarrassing:
The Liberals, for example, who had allowed their ads to be rotated on Breitbart.com as part of an automatic system that places ads on any number of sites that aren't specifically blacklisted, have now blocked Breitbart from federal ad dollars after deciding its content "did not align with the Government's Code of Value and Ethics." When Kellogg's did the same thing, facing pressure to cancel ads on the site from the same Breitbart-haters that presumably got to the Canadian government, Breitbart fought back by urging readers to boycott the cereal giant; Canadian readers have yet to figure out an effective way of boycotting the government.
China and North Korea censor what their people read, too.
Speaking of China
...
A highly accurate Chinese ballistic missile capable of threatening U.S. and Japanese bases in Asia has made its latest appearance at recent Rocket Force drills.

The medium-range DF-16 featured in a video posted last week on the Defence Ministry's website showing the missiles aboard their 10-wheeled mobile launch vehicles being deployed in deep forest during exercises over the just-concluded Lunar New Year holiday.

While the Rocket Force boasts an extensive armoury of missiles of various ranges, the DF-16 fills a particular role in extending China's reach over waters it seeks to control within what it calls the "first-island chain."
If Premier Wynne is bothered by huge salaries
, she can forfeit her own:
With a projected $4.3-billion deficit this year and relentlessly mounting debt, the Wynne government needs to better control spending to repair the damage to Ontario's finances. A key area of spending to scrutinize is the wages and benefits of government employees, which are responsible for roughly half of Ontario government pro­gram spending each year.
If the ever-agitated thugs who smashed windows and assaulted people on university grounds
can illustrate how they are
not
like the Brownshirts who destroyed Jewish properties on
Kristallnacht
, that would be much appreciated:
There is a peculiar sadism at the very root of the leftist mindset, one made all the more foul because it's buried underneath a fraudulent veneer of compassion and tolerance. There has been next to zero violence coming from the right, but leftists are justifying all their mob violence by saying Nazis want to exterminate everyone, so they're just preemptively preventing another genocide. That's a transparently false excuse, and they'd be hard-pressed to point to a single person they've attacked who advocates violence, but I realized only a few years ago that truth and facts simply do not matter to these cultists.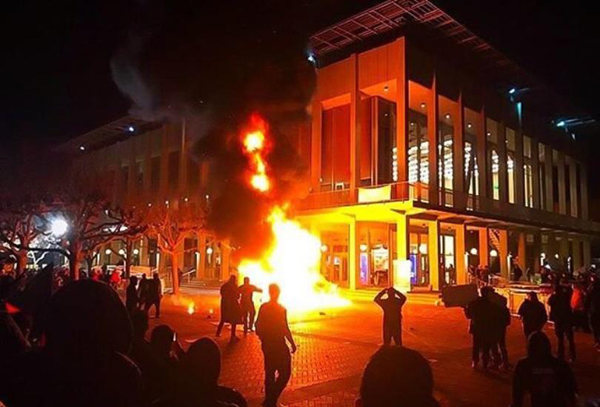 Oh, poor baby
. And all this time, I thought I should have sympathy for Afghan or Iranian girls who mad theocracies keep them down incessantly:
The courtroom battle began in December with a fight over a court of different sorts — and a 12-year-old girl's access to it.

Sydney Phillips, from Kenilworth, New Jersey, had plans to spend her winter playing on the 7th grade girls basketball team at St. Theresa's Catholic school. She had competed the year before, reported NJ.com, and was even named an all-star.

But in the fall, when not enough of her female classmates showed interest, St. Theresa's canceled their season.

So Sydney asked if instead she could play with the boys.

School officials said no.

Their message, according to Sydney's father, was simple: Girls play with girls, boys play with boys.
That reasoning didn't satisfy Scott Phillips and his wife, though, who then decided to file a lawsuit against the Catholic school and the Archdiocese of Newark on their daughter's behalf. Sydney, they argued, shouldn't be held back just because she is a girl.

The parents argued that the school was in violation of the rules of the Interstate Athletic Association, the New York Post reported, which say girls should be permitted to try out for boys' teams in the absence of a girls' team. The association, however, told the New York Post that only applies to high schools.

Superior Court Judge Donald Kessler ruled that the 12-year-old had no legal right to play basketball.
In mid-January, as the basketball season ticked away, Sydney's parents appealed.

Then last week, the couple learned that Sydney's right to play basketball wasn't the only fight they would have on their hands.

On Feb. 8, an email and letter explained that Sydney and her younger sister, a fifth grade student, were no longer welcome at St. Theresa's, reported NBC 4 in New York. The Archdiocese of Newark had decided to expel the girls, citing a school handbook policy that states parents who sue the school will be asked to remove their children.
I suppose that
there is an urgency in stopping a barbaric practice of forcibly removing one's nether-bits with razors or broken glass
:
The unexpected discovery that female genital cutting confers an evolutionary fitness benefit in some West African societies should prompt a rethink of strategies to eradicate the practice, according to new research by British anthropologists.

Rather than pushing ethnic groups to stop cutting their girls "en masse," which is often resisted and resented, the research suggests a "piecemeal" approach could be just as effective. In ethnic groups where the prevalence of cutting is low, the research suggests the practice is already in decline. And so eradication efforts might be best targeted at group with high prevalence. If those can be pushed lower than 50 per cent, evolutionary forces may take over and push that decline all the way to zero, said Janet A. Howard of the University of Bristol.

The findings would also appear to undermine the compromise strategy of allowing ritual superficial wounds — in other words, preserving the practice but limiting the physical damage.
In 2011, then-MP Justin Trudeau refused to call FGM "
barbaric
".
Carry on.
Why does anyone have to participate in an event that encourage sexual depravity of one small sub-set of Canadian society
?
Halifax's police force says it will not participate in the city's Pride parade this year after considering the "national debate" about law enforcement involvement in such events.

A news release from Halifax Regional Police says the decision was made after several months of discussions with Halifax Pride.

Police Chief Jean-Michel Blais says participating in the parade may contribute to divisions in the Pride community, and stepping away from it will allow for meaningful discussions on the issue.

Halifax Pride executive director Adam Reid says he supports the proactive decision, and believes the Halifax force is the first in Canada to take such an approach.
What a gong show.
She may have killed them but her real crime (according the Canadian legal system)
was improper burial
:
Andrea Giesbrecht was convicted on six counts of concealing the body of a dead child. Each count carries a maximum two years in jail.
Screw our unelected judges.
And now,
let your brain be melted by a baby sloth
: