Your post-Love Day entry...
Kim Jong-Nam
, the elder half-brother of North Korean dictator, Kim Jong-Un, has been killed in an apparent assassination in Malaysia. One woman - a suspected North Korean spy -
is in custody
.
And what could be the motive for such a killing
?
As to the regime's apparent intent, its motives must have been political. Kim Jong-nam had criticized his brother's regime and predicted that it wouldn't last. As Dennis Halpin explained, he was the best alternative successor to the family bloodline if China needed a North Korean Pu Yi, a possibility Kim Jong-un couldn't allow. The most important reason to kill Kim Jong-nam was to warn Thae Yong-ho and others like him, who have been defecting in greater numbers. Pyongyang sees that surge of defections as a threat to its survival. It must want to send a message to Thae Yong-ho and others that they aren't safe anywhere, even if they're under government protection (in Kim Jong-nam's case, China's).
(
Sidebar
: why, again,
did Trump not stand up to China
?)
This isn't the first time that North Korea has done things like this
:
North Korea has a long history of using female operatives, not just as honey traps but also as fanatical assassins who often prove tougher than men.

One was Won Jeong-hwa, an agent who came to South Korea posing as a defector and was arrested in July of 2008, having wheedled military secrets out of a number of officials here.

She came from a good family and was chosen to join the elite Socialist Youth League and later joined a special commando unit to be trained as a secret agent. There she learned to use lethal weapons like poison-tipped needles, trained in martial arts and mountain warfare, and received ideological indoctrination.

Once in South Korea, Won approached senior military officers and stole sensitive information. ...
In the 1970s, female agents were widely used in the North's bizarre campaign to adapt Japanese and other foreign nationals.

And the only surviving bomber who blew up a Korean Air passenger plane in 1987 was a female agent, Kim Hyon-hui.
Speaking of sneaky and under-handed:
Organizing for Action is drowning in money, by nonprofit standards.

By the end of 2014, OfA, which was formally incorporated only the year before, had taken in $40.4 million, $26 million of which was raised in 2014, according to the organization's IRS filings. OfA's big donors are members of the George Soros-founded Democracy Alliance, a donors' consortium for left-wing billionaires devoted to radical political change. Among the DA members donating to OfA are: Ryan Smith ($476,260); Marcy Carsey ($250,000); Jon Stryker ($200,000); Paul Boskind ($105,000); Paul Egerman ($100,000); and Nick Hanauer ($50,000). ...

Obama is "intimately involved" in OfA's operations and issues tweets from the group's account, Sperry writes. "In fact, he gave marching orders to OFA foot soldiers following Trump's upset victory."
**
Judicial Watch today released 54 pages of new State Department documents, including a transcript of a September 12 2012, telephone conference call with congressional staffers in which then-Under Secretary of State for Management Patrick Kennedy admitted that the deadly terrorist assault on the Benghazi Consulate was not "under cover of protest," but was, in fact, "a direct breaching attack." ...

he transcript was contained in an email from Julie K. Bulgrin, the State Department Bureau of Legislative Affairs director for Global and Functional Affairs:


From: Bulgrin, Julie K.
Sent: Wednesday, September 12, 2012 7:55 PM
To: H_Egypt; Canedo, Denese; Lang, Alan; 'Rodriguez Miguel'; 'Arguelles, Adam'; 'Lundebergy, Greta'; 'Ortiz, Michael'; 'Lee Collin'; Pitkin, Douglas A; Maier, Christina A
Subject: Write up of U/S Kennedy Call with Hill re Libya
The call ended up starting around 6:30. Here are the raw notes.


***

Rob Carter – was this an attack under the cover of a protest?
No, this was a direct breaching attack.
Do we have any ideas of who launched? Leads?
Some claims from someone who has never made threat before, but everyone is looking at this closely.
Do we believe coordinated w/Cairo?
Attack in Cairo was a demonstration. There were no weapons shown or used. A few cans of spray paint.

The call notes also detail that Amb. Stevens got of the compound, but "collapsed" and was taken to the hospital. Kennedy also said that it was his personal opinion that the attack "was semi-complex."

When asked why no Americans troops were inserted, Kennedy responded that "the entire thing lasted approximately 4.5 hours. No US forces within time to get there." (This was false, troops were available and could have arrived in time to provide support during the second attack on the CIA annex, which according to Kennedy, was assaulted by 100 attackers.)
Again - where was Obama during the attack on the American embassy in Benghazi?
Today in "wasting money" and "investing in an election" news:
The federal government for the second year in a row is writing off millions in student loans it will never collect, this time to the tune of $178.4 million.

The money represents 32,554 loans that federal officials believe they will never be able to collect, either because a debtor may have filed for bankruptcy, the debt itself has passed a six-year legal limit on collection, or the debtor can't be found.

Last year, the government wrote off 33,967 loans totalling $176 million.
**
As reported by the Toronto Sun's Sue-Ann Levy, documents obtained by the Sun indicate the model, two-year contract extension Wynne is offering teachers to ensure labour peace safely beyond the spring, 2018 Ontario election, include a 4% pay hike, a 4% annual hike in benefits and a 0.5% lump sum payment for "supplies".

Levy reported specifically on the hush hush, tentative deal reached between the Liberals and the Ontario English Catholic Teachers Association, in which teachers appear to be getting a 1.5% pay hike this September, a 0.5% lump sum payment for "supplies" in November, a 1% pay hike in September, 2018, a 1% pay hike in February 2019, a 0.5% pay hike in August, 2019 and a 4% annual increase in benefits.

That's compared to their previous three-year deal in which their compensation was supposed to be "net zero" in terms of the overall contract, although those agreements also included raises, albeit less generous ones.

None of this is surprising given that the teacher unions have been staunch political allies of the Liberals ever since the 2003 election that began their ongoing 14-year dynasty.

This in a province that under the Liberals, is now the world's most indebted sub-sovereign borrower, with a $300 billion provincial debt.
**
Under the Liberals, Ontario today has one of the world's most expensive health care systems, costing taxpayers $51.8 billion annually — 42.4% of all government program spending — that delivers mediocre health care outcomes compared to international norms.

We have fewer doctors, nurses and hospital beds per capita than countries with less expensive health care systems that produce better medical results.

Hundreds of thousands of Ontarians don't have a family doctor, emergency rooms are crowded and wait times for treatment are longer than international norms.
**
Oh, that's original. The New Brunswick Liberals, under what the CBC breathlessly describes as "the first budget delivered by a female finance minister in provincial history," intend to deal with their fiscal crisis by continuing to spend recklessly. It's enough to make one weep. ...

The plan, if that's not too kind a word, is to spend $9.4 billion dollars, an increase of nearly four per cent, in the process running a $192 million deficit while somehow adding $1 billion to last year's projected net debt of $13.4 billion, partly to take advantage of matching funds from the feds' infrastructure/stimulus program. And yet the Finance Minister chirpily insisted they are on track to balance the budget … in 2020-21. Free beer the day after tomorrow.

Well, not completely free. Provincial government debt amounts to around $19,000 per resident or $76,000 for a family of four. And the government increased the HST combined rate to 15 per cent last year, allegedly to deal with the deficit, then blew the extra cash and more. (On top of increasing property, fuel and personal income taxes since taking office in 2014.)
(
Sidebar
: why isn't the headline: "Hey! Women are Stupid!"?)
**
Ontario plans to use only 15 per cent of its cap-and-trade revenue to reduce the cost of electricity and heating, leaving households and businesses on the hook for the rest. Alberta is using one-third of its carbon revenues for income-tested rebates for some residents, but most revenues are earmarked for green subsidies.
Keep telling one's self that it's just money.
That's not what she said before:
Liberal MP Iqra Khalid is considering softening the language in her so-called anti-Islamophobia motion, ...
**
In an exclusive interview Tuesday with the National Post, Khalid, a Pakistan-born first-time MP from Mississauga, Ont., said she is not willing to alter her motion, which has been given the parliamentary designation M-103, even though some Conservative MPs have suggested she do so and even though she says she has been subjected to "a lot of hatred" and abuse since she first proposed the motion last December.
What this liar is trying to say - if I have her double-speak correct - is that her motion, which presents a vaguely defined bogey-man as a reason for elevating Islam above all other religions and, therefore, exempt from criticism, should not be modified in any way, shape or form, no matter how barmy, draconian, antediluvian or antithetical to Western democracy it is.
And if she has to present herself as a victim of "Islamophobia" to press on with this proposed blasphemy law, then by Thor, she'll do it!
No wonder Canadians have had it with their elites
.
And now,
one of the best employees on the planet
:
Two years ago, Sabrina Plannerer and her partner purchased a Shell gas station under construction in the town of Mogi das Cruzes, Brazil. It was around this time that she discovered the adult dog roaming around the site, after he'd been abandoned there by his former owner and was too frightened to leave.

So, rather than try to shoo Negão away, they stepped in to help him.

"We adopted him immediately and got him all the care animals need," Plannerer tells The Dodo. "We took him to the vet to get vaccinated and de-wormed. We bought him food, a dog house, and a leash to take him on walks."

And when the gas station finally opened, Negão even got a job ...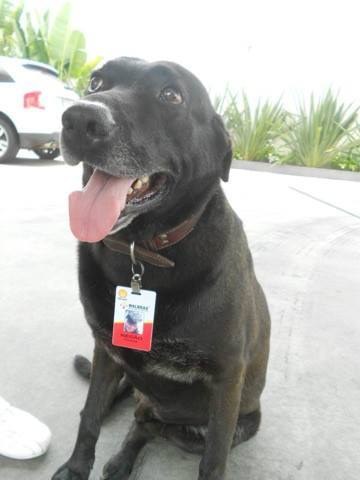 He cares about customer service ... and tummy scratches.
(
Kamsahamnida
)