Stay cool however you can, puppy dog!
The owner of a coffee shop outside of which Abdirahman Abdi died claims that he had harassed someone before the fatal incident
:
The owner of Bridgehead coffee shops has spoken for the first time since Abdirahman Abdi's fatal confrontation with Ottawa police that began with multiple 911 calls from one of her shops, and she discussed what led up to the incident.




In an interview with CBC Radio's Ottawa Morning on Friday, Tracey Clark said she and her staff have stayed silent since July 24, when the arrest was made, out of respect for the family, for ongoing investigations, and for the customers and staff at Bridgehead who were involved.




Now, she believes it's time to speak "from the heart." ...

Clark wasn't at the Bridgehead shop on the corner of Wellington Street West and Fairmont Avenue on the Sunday morning when the incident began, but said she has spoken with staff and customers who were there.




She would not go into great detail about what happened, in part due to ongoing investigations, describing Abdi's actions only as an "assault" and "harassment" of more than one person inside.

"It was a rapidly escalating situation where Mr. Abdi did harass a customer, and more than one, and several customers [sought] to move him out of the store to restrain him until police could arrive," Clark said.




She was then asked by Ottawa Morning host Robyn Bresnahan about whether police might not have been called if Abdi weren't a person of colour. Clark said the 911 calls were made in response to the behaviour, not skin colour.




"I reject that. I take real exception to it. It just never would have been the case. We deal only with the behaviours that were presented," she said.




"Mental health is also a huge issue in our community — as a society we're just starting to understand it as something that needs the same kind of attention as physical kinds of ailments. And again, we see in our shops every day, folks that may not be entirely balanced because again, we're a bit of a safe place for them to come."
Of course. Mental health.
An American woman in her 60s has been killed after being repeatedly stabbed in the back by a knifeman in a central London rampage as police

rowed back on terrorism as a potential motive and said the attack was probably triggered by mental health issues.




The suspect is a Norwegian national of Somalian origin, but no evidence has been found of radicalisation, Scotland Yard's head of counter-terrorism Assistant Commissioner Mark Rowley said.
It is never Islamism or anything to connected to it. Now, it's mental health issues.
"Being an American. Being an African-American. Being Muslim. Being a woman. These are things I can't change, and that I wouldn't change for anything," she said.




What she wants to change, as the first American athlete to compete in the Olympics wearing a hijab, is the conversation about Muslims.




She wants to change the way they're perceived, misconceived and threatened by increasingly hateful rhetoric in the United States. She has to, she says, because no American should live in fear in their own county, just because of who they are or what they wear.




This is Ibtihaj Muhammad: an Olympic athlete who gets stalked like a criminal in New York City because she has a traditional Muslim head wrap.
And rest assured that the Saudi women will be covered.
Pictures posted on Twitter show protesters lying in a row across the road beneath a banner which says: "This is a crisis", while chants of "black lives matter" could be heard.




The campaign group had called for a "nationwide #shutdown" to mark the anniversary of the London riots in a post on social media yesterday.
High-pressure fire hoses is what I am trying to say.
A Stittsville tween who has been fighting for the rights of transgender Canadians has been chosen to be this year's Grand Marshal in Ottawa's upcoming Capital Pride parade.
Oh, look - child abuse.
Ontario's Liberals are dismissing complaints that their candidate in the Scarborough-Rouge River byelection had an unfair advantage by knowing when the vote would be called.




Liberal candidate Piragal Thiru sent out an email Wednesday announcing the byelection several minutes before the government's official news release saying the vote would be held Sept. 1.

The New Democrats filed a complaint with Elections Ontario asking for an investigation into what they say looks like collusion between the premier's office and the Liberal campaign.
A San Francisco union representing the city's police officers is being criticized for publishing an ad in the August issue of its monthly newspaper, showing one black and one white Labrador retrieved, each holding up signs that read "Black Labs Matter" and "All Labs Matter."




The sign is being criticized as an insult to the Black Lives Matter movement.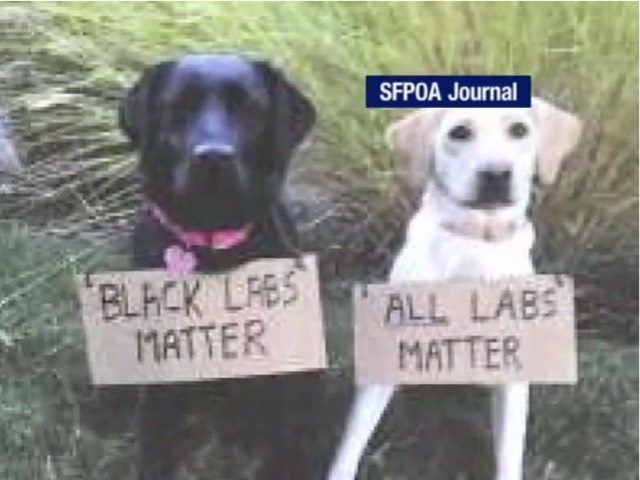 The offending picture (source)
What struck me when I visited Nagasaki was the logical dissonance between the aversion to war and who would start it. The militaristic Japanese were as ISIS today - driven by a poisonous ideology and
cruel beyond measure
. In order to finish the war and have a lasting peace, the US was forced to do as
William Tecumseh Sherman
once said: do not try reforming the war but finish it as brutally as it started. War was a thing the militaristic Japanese started, something that necessitated the use of one of the most horrifying weapons ever created by man but out of it came peace and prosperity.
The mayor of Hiroshima
fails to understand that the Marxist Obama handed the mad theocratic state of Iran a weapon it intends on using
against innocent civilians
and at the expense of its own citizens. Obama will certainly not care if Kim Jong-Un ever gets an opportunity to deliver a third nuclear payload to Japan,
something it is currently planning on preventing
:
In May, Obama became the first sitting U.S. president to visit Hiroshima, and Matsui quoted part of the speech Obama delivered at the same venue in which he said "those nations like my own that hold nuclear stockpiles, we must have the courage to escape the logic of fear, and pursue a world without them."

Matsui said Obama's words show that the president was touched by "the spirit of Hiroshima" and its refusal to accept nuclear weapons.

Matsui then called on the world to "unify and manifest our passion in action" to proceed toward a world free of nuclear weapons.
Geologists finds evidence of a great flood in China
:
Geologists have found the first evidence for China's Great Flood, a 4,000-year-old disaster on the Yellow River that led to birth of the Xia dynasty and modern Chinese civilization, researchers said Thursday.

The findings in the journal Science may help rewrite history because they not only show that a massive flood did occur, but that it was in 1920 BC, several centuries later than traditionally thought.

This would mean the Xia dynasty, led by Emperor Yu, may also have started later than Chinese historians have thought.
And now, while the summer Olympics may have started in Rio de Janiero, Zurich will host another Olympics -
the Cyborg Olympics
!
Not long after the summer Olympics come to a close in Rio, Zurich will be playing host to another international competition. The inaugural Cybathlon, debuting on October 8, will attract researchers, scientists, engineers, and disabled competitors to the Swiss city to showcase the latest in cutting-edge prosthetics technology, Nature reports.
I suppose life-changing technology is not exciting for some.
(sigh)