I'll miss you most of all, garish wallpaper!
Ladies and gentlemen,
Mrs. Nancy Reagan
.
A Sydney gunman is shot dead after a six hour siege in which one other person was killed
:
A man who police say fatally shot one person and wounded two others inside a western Sydney business was found dead inside the building after a six-hour standoff Monday that brought the area to a standstill.
And I thought those
strict gun laws
were supposed to work.
Either tackle the real issues surrounding gun violence or forget about it.
Was
her brother
also in
the prisoner's dock
?
The aunt of Alan Kurdi says she takes little comfort from the prison sentences two Syrian smugglers will serve in Turkey over the deaths of five people including her nephew, who was photographed lying lifeless on a beach.



Tima Kurdi said Friday the problem plaguing Syrian migrants is far greater than two people and that political action at the global level is the only thing that will stop a war in Syria that has displaced millions.
Well, obviously.
On one hand, you have ISIS which no politician really wants to defeat and
which is still planning on taking down the decadent post-modern West
.
On the other, you have unvetted migrants flooding into the country so that they can have a free ride and that politicians can have a voters block.
The problems in Syria will drag on for years.
Also: this is a religion that allows women to be stoned to death:
Does anyone care to do something about this other than pointless muttering of Western platitudes?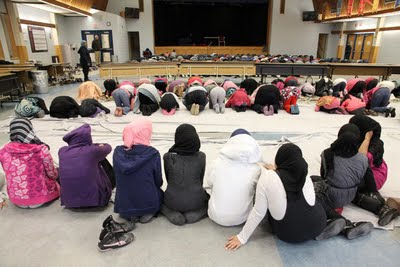 Does this look familiar?
Trudeau will no more take Trump
(or Cruz) to task than he would
Putin
:
Prime Minister Justin Trudeau refused to weigh in Monday on some of the nastier policies pushed by U.S. presidential hopeful Donald Trump, but he did suggest some questions Americans might want to be asking themselves.



Pressed to discuss Trump's views, Trudeau said it was not his place to take on the brash billionaire-turned-politician who has advocated torturing terrorists, barring Muslims from the U.S. and deporting millions of illegal Mexicans and their families.
But he will talk about Trump behind his back.
What a pansy.
Go home to your mother, Hair-Boy.
Before birth and before natural death, human life has no value. The human person has no value. Whatever morals upholding the dignity of the person has been frittered away and replaced with paranoia and indifference:
The federal government will contribute $76 million to the United Nations Population Fund to increase access to maternal, newborn and reproductive health services in developing countries and add $5 million for contraceptive supplies.
**
A doctor with privileges at a Catholic hospital in a small British Columbia community says a likely ban on assisted-dying at the facility is a violation of terminally ill patients' charter rights.
What a time to be alive for however short a time an unaccountable government sees fit.
And now,
artful cookies
. Enjoy: