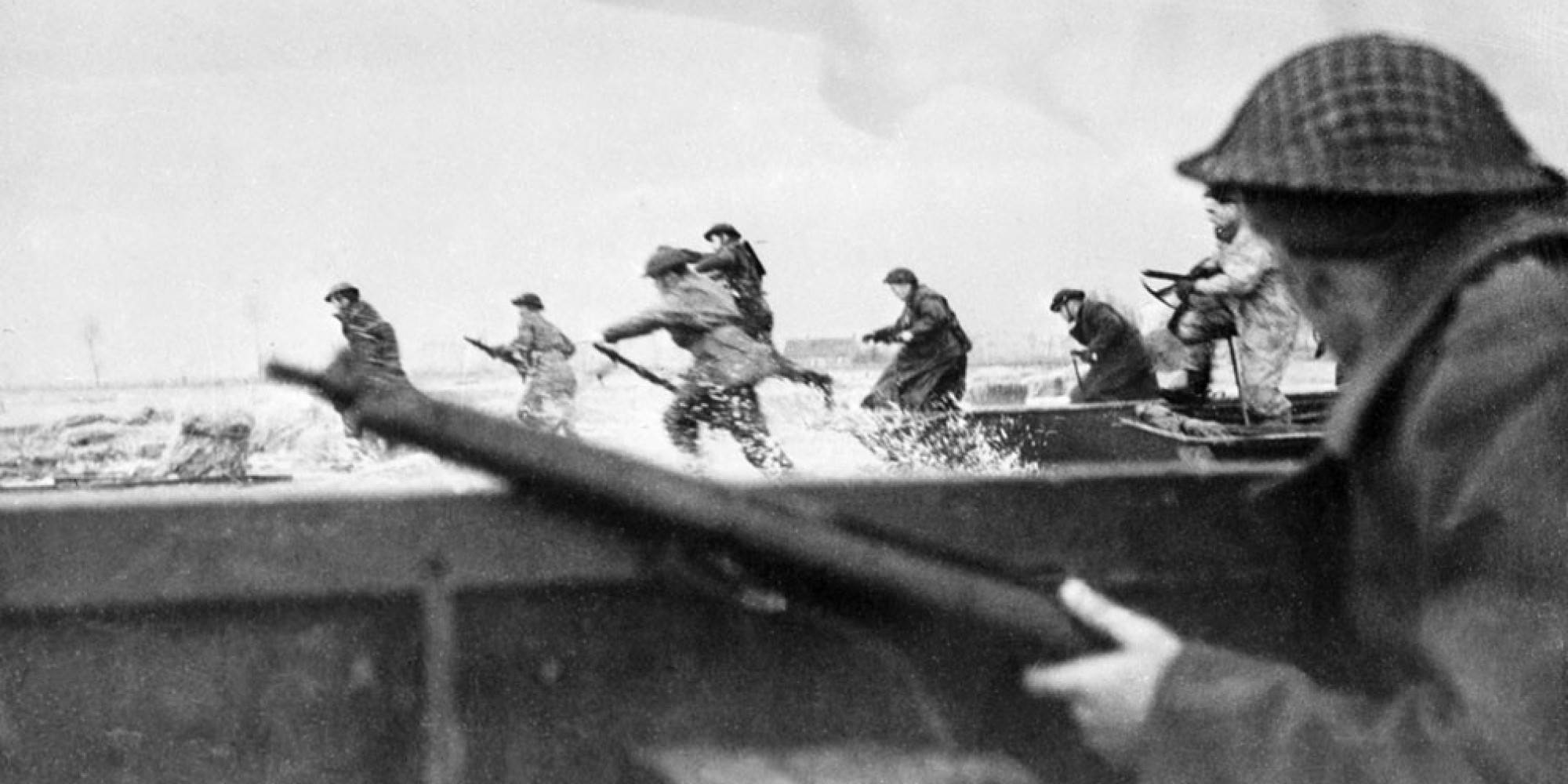 You are about to embark upon the Great Crusade, toward which we have striven these many months. The eyes of the world are upon you. The hopes and prayers of liberty-loving people everywhere march with you. In company with our brave Allies and brothers-in-arms on other Fronts, you will bring about the destruction of the German war machine, the elimination of Nazi tyranny over the oppressed peoples of Europe, and security to yourselves in a free world.
**
**
**
Second World War veteran Trooper Edward Stafford talked about returning to Italy and Holland recently, and he along with other veterans being treated like heroes.

"Seventy years after the war, they were holding up their children to us 90-year-old veterans and telling them that because of us they have their freedom," Stafford said.
Also -
fifty years on
:
Before 1967, Jews and Israel were not only history's underdog, but its persecuted victim. After 1967, Israel was strong. It began then to lose the international support of the global left, champion of the weak and afflicted. Progressive politics now agitates to delegitimize Israel as a 21st-century apartheid state. In response, support for Israel has become a hallmark of conservative politics.
North Korean defectors are now victims of a scheme to steal their savings
:
A few months after fleeing her destitute homeland for a more decent life south of the border, Park received a tempting offer from a fellow defector: She could transfer money to her family in the North for a commission fee.

Haunted by memories of her three starved children and old mother living in Hyesan in the country's far north Ryanggang Province, the 44-year-old defector eagerly handed over 20 million won ($17,900) to a broker -- only to find out a month later not a single penny had reached her family.

"It was all of my savings," said Park, who arrived here several years ago and agreed to speak to The Korea Herald on condition her full name not be published.

"I had spent months to find this guy, but to no avail. It is just outrageous to think that other defectors like me would easily fall prey to this kind of fraud, getting their savings wiped out."

In line with an influx of North Koreans here, the tally of their remittances is expected to rise. As of March 2017, a total of 30,490 from North Korea have resettled in the South, according to the Ministry of Unification.

No official data on their remittances is available, however, given a government ban on South Koreans wiring money to the North. The brokers sneak the funds in through acquaintances, which is also illegal in China.

According to a 2016 survey from the Seoul-based Database Center for North Korean Human Rights, around 58.5 percent of 400 surveyed defectors in the South have sent money home. Twenty-six percent said they did so last year, with the average remittance being about 2.35 million won.
Oh,
this
sounds
familiar
:
South Korea's defense ministry began preparations for a full-blown environmental impact assessment on the ongoing deployment of the US THAAD missile defense system Tuesday, a ministry official said, a move that will inevitably delay its operation.
Just in time for Ramadan
:
A Scarborough woman swore allegiance to ISIS in a Scarborough courtroom where she appeared to face allegations that she swung a golf club at hardware store employees while screaming threats and Islamic chants.

Before Tuesday's proceedings started, Justice of the Peace Alice Napier asked Rehab Dughmosh, 32, to identify herself in court — but the accused woman didn't initially answer the question.

"ISIS — I pledge to the leader of the believers — Abu Bakr al-Baghdadi," blurted the woman through an interpreter.

Al-Baghdadi is the leader of the Sunni militant jihadist group known as the Islamic State of Iraq (ISIS) and the Levant.

Dughmosh, who wore a black niqab and a forest-green prison sweat suit, agreed to "stay in jail," rather than have a bail hearing at College Park courts Tuesday.

Dughmosh was remanded in custody and will appear via video at Scarborough Court of Justice on June 21.

Sources told the Toronto Sun that a woman, wearing an ISIS bandana, allegedly entered Cedarbrae Mall in Scarborough Saturday afternoon and then the Canadian Tire store, where she walked to the paint section.

She allegedly ranted "Allahu Akbar" — God (Allah) is greater — before swinging a golf club at employees — at the same time of bloody terrorist attacks in London, sources said.

The woman was restrained by several employees, after she pulled out a large knife from under her clothing, according to police. The knife was pried from her hand and an employee suffered non-life-threatening injuries, said a police release.

Dughmosh is facing seven charges including two counts of assault with a weapon, assault, two counts of possession of a weapon, threaten death or bodily harm, and carrying a concealed weapon.
Also
:
No Western leaders, not our own photogenic, canoe-paddling Prime Minister Justin Trudeau, nor his handsome counterpart in France, President Emmanuelle Macron, dares to utter one word of critique about Islam and its role in triggering so much mayhem, for so long.

Trudeau believes "Islamophobia" is the real threat to Canada, not Islamofascism.

The reaction from British Prime Minister Theresa May, though more truthful, ended with the same apologetic approach to the elephant in the room – Islam.

Although she referred to "Islamist extremism" as an "evil ideology," she qualified her remark by saying, "it [Islamist extremism] is a perversion of Islam and a perversion of the truth."

London's Muslim mayor, Sadiq Khan, (not an Islamist by any stretch) nonetheless tippy toed around the question of how Islam was inspiring young men to kill non-Muslims, or Muslims of other sects within Islam, or Muslims like me who publicly raise these contentious issues.
(
Sidebar
: oh, please, Mr. Fatah -
the incompetent mayor will do anything to cover his @$$
.)
As Khan put it: "This sickening act has nothing to do with the Islam I know. To murder innocent people, especially during Ramadan, is a rejection of the true values of my religion."

Here is my message to May and Khan:

The London Bridge attack, the Kabul suicide bombing, the slaughter of Christians in Egypt and the attack by ISIS in the Philippines last week, as well as the Melbourne and Paris attacks on Tuesday, are all based on sharia Islamic law. All were carried out by Muslims inspired by the Qur'an.

Here is one of the many verses in the Qur'an invoked by jihadi terrorists.

It is from chapter eight entitled, The Spoils of War:

Quran 8:12 - "I am with you, so strengthen those who have believed [Muslims]. I will cast terror into the hearts of those who disbelieved [non-Muslims], so strike [them] upon the necks and strike from them every fingertip."

When confronted by critics to explain this call for beheading non-Muslims, Islamists and their apologists say this verse was revealed for a specific battle at a specific time during the life of Prophet Muhammad and is no longer applicable.

However, the same Islamist clerics then return to their mosques to preach the same verse as part of Muslim prayers.
A boy was murdered because he was "too noisy"
:
German authorities say an Afghan man, who had served prison time for arson, fatally stabbed a five-year-old Russian boy at a home for asylum-seekers after an apparent argument about noisy children.
I didn't watch
this
because I can't stand looking at that lisping moron but, apparently, it didn't go down well:
Pap begets pap, of course. When Trudeau was asked about keeping Canada safe from terror in the wake of yet another atrocity in Great Britain, he gave the thin answer that keeping citizens safe was the "biggest responsibility of any leader."

Then he said this.

"There's all sorts of different things we need to do, whether it's investing in safety, security, police officers and investigative national security stuff," he said.

"Or whether it's in creating a society in which we're there for each other, we lean on each other (and) we're resilient enough to handle bad things happening without falling into a bad space."
What the hell was that?

Resilient enough? Falling into a bad space?

There was no outrage expressed by Trudeau regarding another horror being inflicted on London, no mention that a young Canadian woman was among those murdered by dupes of the ISIS death cult, no solidarity with British Prime Minister Theresa May when she said "enough was enough" and that ways must be found to shut down the dark cyber world exploited by terrorist operatives.

Instead, it was patronizing nonsense. And, if "falling into a bad space" means pretending that Islamic extremism doesn't exist, and that ISIS-linked terrorism always happens elsewhere, then Trudeau is whistling past a growing graveyard.
There's more of the snowboarder's idiocy.
It's just embarrassing.
This
is from a government that wants
to lower the age of consent
:
The Liberal government is changing sexual assault law to make it clear that an unconscious person cannot consent to sexual activity, part of an effort to bring legislation up to speed with the courts — and the times.



"I'm hopeful that these proposed changes will go a long way towards ensuring that victims of sexual assault are treated with compassion and with the respect that they deserve," Justice Minister Jody Wilson-Raybould said Tuesday.




The proposed legislation, known as Bill C-51, would update the Criminal Code to reflect a 2011 decision by the Supreme Court of Canada, which involved the case of a couple that engaged in erotic asphyxiation.




The ruling, known as R. v. J.A., restored the conviction of a man who had performed sexual acts upon his longtime girlfriend after she became unconscious. She had consented to being choked by him, but the high court ruled that consent did not apply after she had lost consciousness.




The proposed legislation does not, however, specifically address whether someone, due to being drunk, impaired or a mental disability, is capable of providing consent, instead leaving that up to the courts to decide on a case-by-case basis.




Bill C-51 would also expand rape shield provisions — designed to prevent the sexual history of a complainant from being used against them — to include text messages, photos and other communications of a sexual nature, either from before or after the sexual activity in question.




It would also set up a regime to clarify whether an accused can introduce in court any private records of a complainant, such as diary entries.
Trudeau's government will not pony up the cash necessary to be a major player
:
Chrystia Freeland signalled her government is set to forsake flower power in favour of hard power, in a major foreign policy speech in the House of Commons.

What will become clear Wednesday, with the release of the defence policy review, is whether the promised investment in the Canadian military will go ahead in the lifetime of this Parliament — or even this prime minister. The fear in the ranks is that a "long-term" plan will be so back-end loaded as to be meaningless. ...

Canada spends less than half of two per cent of its GDP on defence, putting it in the bottom third of NATO contributors.

Most of those countries have responded to Russian adventurism by increasing their military spending, yet the Liberals won an election with a commitment to "maintain current defence spending" and have since hacked into the budget for big-ticket equipment in successive budgets. Whenever the subject is raised, the government tries to shift the conversation to "outputs," rather than cash contributions — the last refuge of the parsimonious.

Freeland promised her government "will make the necessary investments" to place the Canadian Armed Forces "on a new footing," with equipment, training, resources and "consistent, predictable" financing.

We will soon find out if that commitment is genuine or whether it is merely the creative use of decimal points and dates.
And now,
travel deals
in
Japan
.